Claudia Carol Hall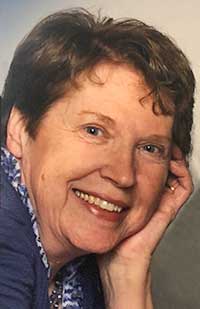 Claudia Carol Hall, 74, of Lockport, passed away Feb. 8, 2020. Claudia was a longtime member of Hartland Bible Church, a past Girl Scout and Cub Scout leader, a Sunday School teacher, and a Youth Group leader.
She was the mother of James "Jim" Carpenter and Ann Marie Carpenter; grandmother of Thomas James "TJ" Smith; sister of Norman (Martha) Walker, the late Rosemary Bernard, and Steven (Phyllis) Walker; and the aunt of Jeffrey Walker, Michelle Green, Laura Zorn, Beth Benedict, Robert Bernard, Joseph Walker and Jennifer Mozg.
The family will receive friends at Hartland Bible Church, 8110 West Ave., Gasport NY 14067, on Thu., Feb. 13 from 1 to 3 p.m., immediately followed by her funeral service. Interment will be Fri., Feb. 14 at 11 a.m. in Lynhaven Cemetery, Housel Avenue, Lyndonville.
In lieu of flowers, Claudia requested memorials be made to WNY Challenger Sports, 6133 Reger Drive, Lockport NY 14094; or to Autism Society WNY, 19 Limestone Drive #1, Buffalo NY 14221; or to Hartland Bible Church.
Arrangements have been entrusted to Sherrie Bream Funeral Home, Gasport. To share a special memory of Claudia, please visit www.mitchellfamilyfuneralhomes.com.