Chester M. Zelazny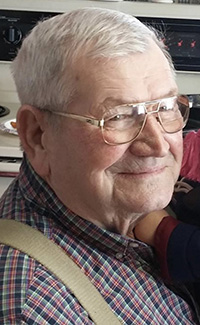 Chester M. Zelazny, of Shelby passed away at home on Nov. 20, 2020 following a brief illness. He was 92 years old.
Chester was born in the Town of Wheatfield on May 17, 1928 to Sophie (Lojek) and Michael Zelazny. In 1947 with two brothers, Walter and Marion, they purchased and moved to the farm on Harrison Rd. in Medina.
An avid pilot with a desire to serve, Chet enlisted in the Air Force and trained at Williams AFB in Arizona. Upon graduation in Feb. 1956, he returned to his home base at Niagara Falls Air National Guard, flying F94A and F94B all weather interceptors. In 1958 when the unit changed to F86H, he checked out and was qualified combat ready, flying air to ground training missions. In 1960 Chet transferred to the Air Force Reserve at Niagara Falls Air Force Base 328 Tac Airlift where he flew C-119 cargo planes. Shortly after he was activated during the Cuban Missile Crisis. In 1973 he left the Air Reserves with the rank of Major. He returned to Medina to continue farming full time, but his passion for flying never left him. Chet built an airstrip on his Fletcher Chapel Road property, making it available to other pilots, crop dusters and aviation enthusiasts. He also used it to keep his own pilot's license current.
Chet was elected to the Farm Service Agency, a part of the USDA and served for many years. He was elected and served as Shelby Town Justice for 24 years, retiring in 2004. He was also a member of the Sacred Heart of Jesus R.C. Church in Medina.
Chet continued to farm until his passing and enjoyed working alongside his sons, Edward and James, and grandsons, Clayton and Wyatt, who will carry on his farming legacy.
Chester was predeceased by his brothers, Stephen, Marion and Walter Zelazny; sisters, Stella Siuta and Mary Ciskiewicz; nephews, Steve Zelazny, Gus Siuta, Jr. and Walter Kuklis; and nieces, Deborah Christenson and Joanne Nickles.
Chester is survived by his wife of 61 years, Dorothy; daughters, Patricia (William) Olinger and Lorraine (Donald) Hinson; sons, Edward (Kim) Zelazny and James (Marylynn) Zelazny; 8 grandchildren, James (Jessica), John (Laura), Robert (Katie) and William (Sarah) Olinger, Clayton, Miranda and Wyatt Zelazny, and Ian Hinson; 3 great-granddaughters, Mila and Adalyn Olinger and Ashlyn Olinger; and many nieces and nephews.
Calling hours will be held on Fri., Nov. 27, from 3 to 7 p.m. at Cooper Funeral Home, 215 W. Center St., Medina. His Mass of Christian Burial will be celebrated on Sat., Nov. 28 at 11 a.m. at Holy Trinity R.C. Parish, St. Mary's Church, 211 Eagle St., Medina. Interment will full military honors will be held at a later date.
Memorials in Mr. Zelazny's name may be made to the Knights-Kaderli Memorial Fund, P.O. Box 684, Medina, NY 14103; Hospice of Orleans, P.O. Box 489, Albion, NY 14411; or the Orleans County Veterans Service Agency, 13996 Rt. 31 West, Albion, NY 14411. Share memories and condolences at: www.cooperfuneralhome.com