Charles J. London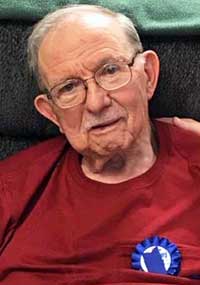 Charles "Junior" London, 82, of Albion, died on Dec. 24, 2018 at Rochester General Hospital, surrounded by his family. He was born Oct. 8, 1936 in Albion, a son of the late Charles G. and Ellen (Gibson) London, and he lived in this area all of his life.
Junior retired from Eddy Printing after 55 years and also worked part-time at Valu Home Center in Medina. He was a handy man with a love for tools, and he was most proud that he had built his home in Waterport from the ground up. He enjoyed hunting, NASCAR, and spending time with his family, especially his grandchildren.
He is survived by his loving wife of 57 years, Ann; his son, Nathan (Lisa Russo) London of Medina; daughter, Wanda (Calvin Jr.) Pangrazio of Barre; grandchildren, Perrin (Matt) London and Alise (Aaron) Pangrazio; siblings, Francis Gerald (Monica) London of Waterport, Veda (Bob) VerCruysse of Waterport, and Sydney Richard (Wende) London of Batavia; as well as several nieces, nephews and cousins.
There will be no calling hours. His memorial service will be held on Sat., Dec. 29 at 10 a.m. at East Shelby Community Bible Church, 5278 East Shelby Road, Medina NY 14103.
In lieu of flowers, memorials may be made to Parkinson's Foundation – Greater Rochester Chapter, 1000 Elmwood Ave., Rochester NY 14620; or to Carlton Fire Department, 14341 Waterport Carlton Road, Albion NY 14411.
Arrangements have been entrusted to Christopher Mitchell Funeral Homes, Inc., Albion. To share a special memory of Junior, please visit www.christophermitchell.com.