Bruce J. Greene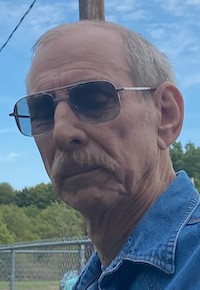 HOLLEY – Bruce J. Greene, age 71, died August 26, 2022 in his home following a short illness.  He was born in Hornell, NY and had lived in this general area most of his life.
Bruce was a 1969 graduate of Holley High School and was a United States Navy veteran of the Vietnam era. He was an avid Dallas Cowboys fan, enjoyed woodworking, gardening, football, baking and watching NASCAR.
Mr. Greene was predeceased by his wife, Linda; his mother, Doris Calkins; stepson, Daniel Nichols; son-in-law, Jonathan DeYoung; great-granddaughter, Elayne Christensen; and his beloved dog, "Lil Bear".
He is survived by his children, Shawn (Jill) Greene of PA, Arnie (Cheryl) Nichols of Holley, Becky (Mark) Beswick of LeRoy, Brenda (Joe Morlino) DeYoung of Clarendon and Nancy (Dennis) Nichols of Clarkson; his father, James Greene of FL; his brother, Jeff (Kim) Greene of FL; sisters, Valerie (Mike) Pontarelli of Scottsville, Cheryl (Mark) Hellert of Albion; 20 grandchildren; 27 great-grandchildren as well as several nieces and nephews.
There will be no calling hours. Family and friends are invited to attend a time to share memories at his gravesite in Mt. Albion Cemetery on Sunday, Sept. 11, beginning at 11 a.m. His interment will be held privately at a later date. In lieu of flowers memorials may be made to the Clarendon Fire Company, 16169 E. Lee Rd., Holley, NY, 14470.
Bruce's arrangements have been entrusted to the Christopher Mitchell Funeral Home of Holley.  To share a special memory of Bruce, please visit: www.mitchellfamilyfuneralhome.com.