Brooke Elisabeth Allen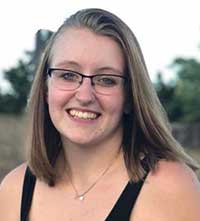 Brooke Elisabeth Allen, 21, of Lyndonville, went to be with the Lord on Thu., Oct. 10, 2019. She was born on July 4, 1998 in Medina, a daughter of Jason Allen and Amanda Howell.
Brooke graduated from Lyndonville Central School in 2016 and was taking online college classes to pursue a degree in counseling. She was employed at Lake Ontario Fruit in Albion. Brooke was a devoted and loving mother to her 1½-year-old son, River.
Brooke is survived by her mother, Amanda (Andrew Joy) Howell of Lyndonville; her father, Jason (Kathy Reid) Allen of Lyndonville; paternal great-grandmother, Joan Dunn of Lyndonville; paternal grandmothers, Joanne Goldsmith of Lyndonville and Patricia "Nana" Higgins of Niagara Falls, N.Y.; maternal grandparents, Randy (Jan) Heideman of Lyndonville and Mike (Darlene) Zeliff of Lyndonville; siblings, Devon Allen of Lyndonville, Natalie Regling of Barker, Brynn Howell of Lyndonville, Alivia Reid of Niagara Falls, Alyssa Haskins of Corfu, Andrew Haskins of Arizona and Hailee Lombardo of Lyndonville; aunts and uncles, Gretchen (Chris) Albone of Lyndonville, Brian Howell of Lyndonville, Chip (Kristy Marshall) Heideman of North Carolina, Joseph Zeliff of Middleport, James (Kari) Zeliff of Lyndonville, Kathryn (Eric) Zimmerman of Oakfield, Joshua Zeliff of Albion, Jodi (Dean) Amsdill of Lyndonville, Jamie Amsdill of Lyndonville, Jackie Amsdill of Lyndonville, Jay (Stacey) Heideman of Lyndonville, Jeremy (Charlie Tanner) Smith of Lyndonville, Josh Amsdill of Lyndonville, Tina Marie and Steve Spalla of California, and Ricky Reid of Corfu; special family members, Geness (Joe Velez) Joy, Devon (Courtney) Joy, Dawson (Jasmine Plummer) Joy and Dustin (Lexi Montez) Joy; many nieces, nephews and cousins; as well as many loving, close friends.
Brooke is predeceased by great-grandparents, Milford Dunn, Lorrie Howell, Fred and Gert Goldsmith; and grandfather, Paul Howell.
Relatives and friends may call on Fri., Oct. 18 from 6 to 9 p.m. and on Sat., Oct. 19 from 10 to 11 a.m. at Oak Orchard Assembly of God Church, 12111 Ridge Road, Medina NY 14103, where funeral services will be held at 11 a.m. on Sat., Oct. 19, with the Rev. Andy Sass officiating. Burial will follow immediately at Lynhaven Cemetery.
Memorials for Brooke may be made to the family for the loving care and support of her son, River.
Arrangements were entrusted to Bogan & Tuttle Funeral Home, 112 N. Main St., Lyndonville NY 14098. Please light a candle or share a memory of Brooke at www.bogantuttlefunerals.com.