Bret Hardenbrook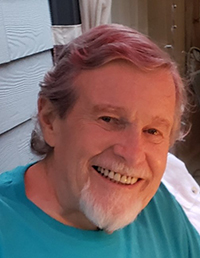 ATLANTA – Bret Walter Hardenbrook was born to Burton and Ernestine Hardenbrook on Aug. 9, 1941 in Holley, NY.  He died peacefully at home in Atlanta, GA, on Jan. 30, 2021.  Bret graduated from high school in Kendall, New York, Class of 1959, and received degrees from the United States Merchant Marine Academy in Long Island, NY, and the University of Alabama in Birmingham.  He worked many years at Energen Corporation in Birmingham, Ala., and later worked as a Psychotherapist with Alabama Psychiatric Services and the University of Alabama Hospital.
Bret was predeceased by his parents, his stepmother Peg Motzer Hardenbrook, his brother Scott (Pat) Hardenbrook, and his close aunt Mary Ellen (Steve) Seaman.  Bret is survived by Linda, his wife of 35 years, and his sister, Kathy (Skip) Scroger.  Children include Kent (Jennifer) Hardenbrook, Gina (Richard) Yancey, Ellan Deinlein and James (Tiffany) VanderZanden.  He also leaves behind grandchildren Emily Hardenbrook, Samuel Hardenbrook, Anna Yancey, Alan Yancey, Adam Yancey, Gabe Deinlein, Sophie Deinlein, several nieces and nephews, as well as a large extended family in the Kendall area.  Bret delighted in get-togethers with family and friends, cooking, reading, and traveling.  His sense of humor and kindness will be greatly missed by all who loved him.
No public services were held.  Those wishing may make donations to your local library or charity of your choice.