Beverly Jean Iorio Hewitt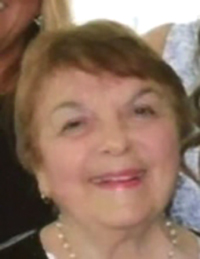 With sadness, we wish to announce the passing of our beloved mother, Beverly Jean Iorio Hewitt, on March 25, 2021.
She was born, July 29, 1934, in Medina, NY, a small farming town in upstate New York to the late Samuel and Mary Detroya Iorio. She graduated from St. Mary's Parochial School and Medina High School in 1952. She married her high school sweetheart, the late Thomas John Hewitt Jr. (deceased 1986) in 1955. They moved to Long Island then to Waterford, CT to both work at Electric Boat where they started their family of four children. In 1960, they moved to Branford, CT where they remained for the rest of their lives. Beverly was a communicant of St. Mary Church in Branford and a member of its Ladies Guild. She was also a member of the St. Mary School Home and School Association, and she was a Red Cross volunteer for many years.
She is survived by her children: Elizabeth Tripp-Stout (Joe), Thomas John Hewitt III (Susan), Jennifer Hewitt White, and Amy Hewitt. Seven grandchildren: Emily Hewitt White, Thomas G. Hewitt, Colin Tripp, Anne Marie Hewitt, Mary Grace Hewitt White, Molly Sullivan (Ryan), Samuel Poryanda, and new great-grandson, sweet Theodore Sullivan. Also, survived by her sister, Josephine Fortunato and many nieces and nephews. She was predeceased by her brothers: Nicholas Iorio, Samuel Iorio, and sister, Louise Sevenski.
Bev, Mimi, was a beautiful person inside and out. Her family was the most important part of her life. She cherished the time she spent with her children, grandchildren, and newest addition to the family, precious Theo. She was a kind, loving woman who always saw the best in people. She will greatly be missed by everyone she crossed paths with. The pearly gates of heaven will be wide open waiting for her.
A Mass of Christian Burial will be celebrated on Wed., March 31, 2021, at 10:00 a.m. at St. John Bosco Parish in St. Mary Church, Branford. Burial will be private. There are no calling hours.