Bernard F. "Ben" Gerbig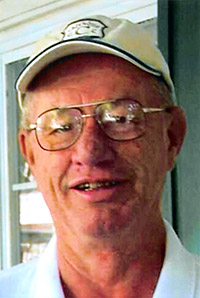 Bernard F. "Ben" Gerbig born June 5, 1941, passed away on July 30, 2022 after a brief illness.
Ben grew up on the family farm on Cody Road in Smithfield. He attended the Peterboro Elementary School, graduated from Morrisville-Eaton Central School in 1958, and from SUNY Brockport with Bachelor's and Master's degrees.
He taught math at Kendall High School and served as Vice Principal at Albion High School. He also served as Principal of the Orleans-Niagara BOCES regional summer school and was an adjunct Math Professor at SUNY Morrisville. He coached boys varsity soccer for 32 years, varsity golf for 18 years, boys and girls basketball for 10 years, and girls volleyball and soccer.
Ben was proud to be chosen to the Section V Soccer Hall of Fame, Kendall Athletic Hall of Fame, and Morrisville-Eaton Central School Wall of Fame for his dedication to education for 52 years.
Ben belonged to several professional and social organizations including the Kendall Volunteer Firemen, Albion Elks #1006 (50 years), Cazenovia Area Volunteer Ambulance Corps, Eastern Orleans County United Way, Cazenovia Golf Club, and was a communicant of St. James Catholic Church.
Ben enjoyed visits to the 1000 Islands with his family, trips to Wisconsin (Rhinelander, Tomahawk, Gleason) to visit relatives, and family genealogy. His other interests included numerous sports, Peterboro history, fishing, and playing cribbage.
He is survived by his wife JoAnn (Horan) Gerbig. They celebrated their 60th wedding anniversary on March 8, 2019; children: James (Charlene), William (Kori), Julee Hartwell (Scott), and George Gerbig; grandchildren: James (Amanda) Gerbig, Alex (Cara) Gerbig, Alisha (Drew) Hartwell, JoAnna Matthews, Madeline Gerbig, and Megan Hartwell; great-grandchildren: Emmit and Lainey Matthews, Drew Pearson, Logan Gerbig, and Julian Gerbig; brothers: Michael (Charla) Gerbig, Roger (Fran) Gerbig and Joseph (Alicia) Gerbig; his sister Mary Ann Benedict; as well as several nieces and nephews.
Ben was predeceased by his parents, Fredrick Gerbig and Alice Marie (Dorrance) Gerbig; grandparents, George and Ernestina (Barnekow) Gerbig and Roger and Mary (White) Dorrance.
Funeral services will be held at 10 a.m., Wed., Aug. 3, 2022 in St. James Catholic Church, 6 Green St., Cazenovia. Calling hours are 4-7 pm Tue., Aug. 2, 2022 at Michael E. Brown Funeral Services, 2333 Fenner Road, Cazenovia.
Contributions in Ben's memory may be made to CAVAC, 106 Nelson St., Cazenovia, NY 13035; or to Hospice of Central New York and of the Finger Lakes, 990 Seventh North St, Liverpool, NY 13088.
Condolences for the Gerbig family may be left at www.michaelebrownfuneralservices.com