Audra Ferris Schutt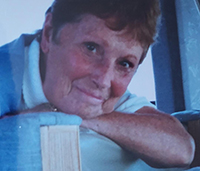 Audra Ferris Schutt, age 91, passed away on April 2, 2023 at the Hospice House in Sun City Center, Florida.
Born March 19, 1932 in Batavia NY, she was the daughter of the late Allen and Helen Ferris.
In addition to her parents, she was pre-deceased by her long-time companion Laverne "Jiggs" Green and her beloved dog "Cassie."
Audra was a retired Registered Nurse who loved to travel with Jiggs in their motorhome full time. They traveled up and down the east coast visiting with family and friends, playing golf, and going to Blue Grass Festivals. They eventually spent much of their time at the Masonic RV Park in Wimauma, Florida. She loved to crochet and made many prayer shawls for people that she knew at the RV Park. She was also an avid animal lover.
Audra is survived by her four children, Becky (Phil) Gang, Kathie (Phil) Zirretta, Jay (Maria) Schutt and Allen (Kim) Schutt, her brother James Ferris, as well as grandchildren, great grandchildren, cousins, nieces, and nephews.
At her request, there will be no services.