Arthur J. Hill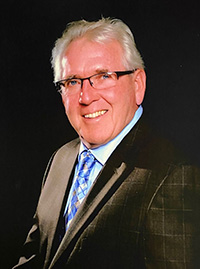 MEDINA – A great man recently said: "I'm so lucky, I love my life." It is with extreme regret to share that Arthur J. Hill passed suddenly and unexpectedly, with family at his side, on January 25th at the age of 78. He was doing what he loved and building until the end.
A lifelong resident of Orleans County, Art was born in 1944 in Knowlesville NY, growing up on the Hill Farm and graduating from Medina High School in 1962.  In the early sixties Art, known for his love of cars, bought his first race car and raced at Lancaster Raceway. After his first race, he never looked back and owned various stock cars locally and throughout the Northeast.  Art's love for the racing community knew no bounds and he cherished the many many friends he had made over the 60+ years of racing. This community and his involvement in racing was one of his greatest joys, and a staple in his life.
Known in the area as the founder of Art Hill Excavating (est. 1977), Art was always known as a man that loved his community, the citizens of Orleans County, and many throughout Western New York. He loved to create and help others over his 60-year career. Art's reputation was well known as one of the best operators in the business.  He excelled at utilizing equipment with ease, grace, and precision. He loved to share his joy of operating heavy equipment while insisting on being fair, honest, and doing the best job possible for each customer. Art was also a mentor and father figure to many that worked at the company, loving to teach, instruct, and share his amazing knowledge of construction.  Through his many years in the business, he befriended many people and loved all that Medina and Orleans County had to offer.
Art was so proud of his children. His daughter, Jennifer, has owned and operated Art Hill Excavating for the past 12 years and his son, Jerry, who sells technologies to the Federal Government, meant the world to him. Later in life, Art was able to spend time in Florida as well where he married the love of his life, Marcia, and found his second family. Spending the winters in Florida, Art and Marcia enjoyed cruising abroad, racing, cars, activities on the lake, traveling the country, movies, and spending countless hours together. They were inseparable and loved each other like no other.
A huge void has been left by such an amazing man as he touched so many in his life from all corners of the country. His appreciation and love for life was infectious. He was loved so very dearly by so many and will be missed but not forgotten. His legacy will continue as Art Hill Excavating continues to serve Western New York and will for many years to come.
Art is survived by his wife Marcia Hamilton-Hill, son Gerald Hill of Leesburg, Virginia, wife Erin Hill, and grandchildren Nova Hill, Abigail Hill, and Kellen Hill, daughter Jennifer Hill-Young of Holley, New York, husband Aaron Young and granddaughter Lyndsay Young, stepson Shane Hamilton, wife Amanda Hamilton and grandchildren Taylor, Nixon and Kennedy, stepson Robert Hamilton, wife Tana Hamilton and grandchildren Christian, Cameron, Bryson, and Brantley, and Stephanie Chiasson and grandchildren Charles and Zachary.
All are welcome to attend calling hours on Saturday, February 18, 2023, at the Ridgeway Volunteer Fire Company, 11392 Ridge Rd, Medina, NY 14103, from 11 a.m. to 2 p.m. with a graveside committal at the Millville Cemetery to follow at 3 p.m.  Please come and be prepared to share your favorite memories of this storied man.
Arrangements were entrusted to the Bogan & Tuttle Funeral Home, 226 Pearl St. Medina, NY 14103.
Please light a candle or share a memory of Art at: www.bogantuttlefunerals.com