Antoine "Vic" Vicknair, Jr.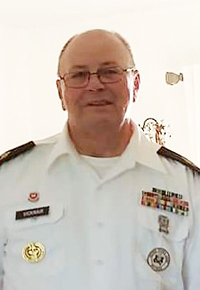 Antoine "Vic" Vicknair, Jr., 77, of Medina, entered into rest on Fri., Nov. 19, 2021 at the United Memorial Medical Center in Batavia.
Born Jan. 15, 1944 in New Orleans, La., he was a son of the late Antoine Vicknair, Sr. and Rita (Cambre) Vicknair. Upon graduating high school, Vic joined the U.S. Army, serving in Vietnam from 1965-1973. He then served many years in the Army Reserves until 1994. Vic married the former Kathleen J. Faivre on July 31, 1971. They moved to the Medina area in 1973, where they made their home and raised a family of two daughters. He was employed by Fisher-Price Toys for 22 years. Upon their closing, he worked for Corson's Manufacturing in Lockport and upon their closing he worked for Associated Brands, where he retired from after 8 years. Never one to sit idle, Vic was very active in volunteer work. He was a proud and active member of Lincoln Post #1483, VFW and Butts-Clark Post #204, American Legion through which he was very active with the honor guard for funeral military honors and Memorial Day activities among many others. Alongside his wife, Kathy, Vic also volunteered with the Knights-Kaderli Memorial Fund, the Crystal Ball fundraiser and also the Orleans Community Health Foundation for the Treasure Island fundraiser.
In addition to his parents, Vic was predeceased by two brothers: Richard Vicknair and Lawrence Vicknair; and two brothers-in-law: Walter "Sonny" Edler and Rodney Pouche.
Survivors include his wife of 50 years, Kathleen Vicknair; daughters: Renee (George) Lama of Hilton and Caryn (Nathan) Mellom of Beloit, Wis.; grandchildren: Aaron Lama, Gavin and Cole Mellom; sisters: Carol Edler, Sharlene (Brent) Guillot, Trudy (Bobby) Oplihant and Sandra Pouche; sister-in-law, Ann Vicknair; also several nieces and nephews.
A memorial service with full military honors will be held at a later date to be announced next spring. In lieu of flowers, memorial donations may be made to the Knights-Kaderli Memorial Fund, PO Box 684, Medina, NY 14103; or to Orleans Community Health Foundation, 200 Ohio St., Medina, NY 14103. Arrangements are in the care of Cooper Funeral Home, 215 W. Center St., Medina. Share condolences at: www.cooperfuneralhome.com