Alvin W. Smith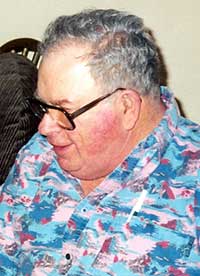 Alvin W. Smith, 80, of East Shelby, went to be with the Lord on Sat., Aug. 10, 2019 at Buffalo General Hospital, after a long illness.
Born on Nov. 11, 1938 in Medina, he was the son of the late Clinton and Mary (Baker) Smith.
In 1957, Alvin graduated from Medina High School and went to work at Harrison Radiator. After 10 years, he left to work on the family farm in East Shelby. Alvin enjoyed playing blackjack and craps at the casino.
He is survived by a daughter, Nicole (Terry) Goodrich of Medina; two granddaughters, Abigail and Grace; siblings, Marian Rechakn of Cape Coral, Fla. and Martin Smith of Lockport; two sisters-in-law, Loretta Smith of Medina and Wanda Smith of Deltona, Fla.; and several nieces and nephews.
Alvin is predeceased by his brothers, Myron, Howard and James Smith.
Relatives and friends may call from 9 to 11 a.m. on Fri., Aug. 16 at Bogan & Tuttle Funeral Home, 226 Pearl St., Medina NY 14103, where the funeral service will be held at 11 a.m. with the Rev. Russell Peters officiating. Burial will be in Millville Cemetery.
Memorials may be made in Alvin's name to American Heart Association, 25 Circle St., Suite 102, 
Rochester NY 14607-1007.
Please light a candle or share a memory of Alvin at www.bogantuttlefunerals.com.