Albert Wayne Keller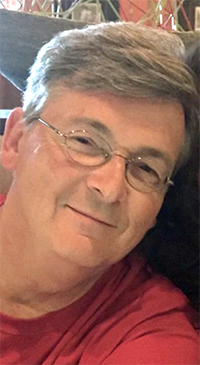 Albert Wayne Keller, Loved Travel and Family, Engineer at Heart
Oct. 18, 1945- Feb. 2, 2021
Albert Wayne Keller of East Aurora, known to friends and colleagues as Wayne, died on Tue., Feb. 2, after a long battle with cancer. He was 75.
Born on Oct. 18, 1945, he grew up in Medina, the son of Irene (nee Whittleton) White and the late Al Keller. He graduated from Medina High School in 1964, and although he attended college at Farmingdale State College in Long Island, his career path truly began in 1970 at Fisher-Price in Medina. He eventually worked his way through the company, moving up the corporate ladder in Quality Control and working in their locations in Murray, KY, Holland, & East Aurora for 20 years, leaving the company in 1990.
At that point, Mr. Keller found employment in multiple companies and moved from East Aurora to Cincinnati, Ohio; Lancaster; California; Charlotte, N.C.; Port Charlotte, Fla., and finally back to East Aurora in May of 2015 after retiring, as it was always home. He retired as the Vice President of Product Integrity and Asian Operations from BRICA.
On July 25, 1970, after a short courtship, Mr. Keller married Sandra A. (nee Kendzierski) Keller and was happily married for 45 years until her death on June 12, 2015.
After the death of his wife, Mr. Keller reconnected with Kathleen Punch, a friend from his days living in Medina. She helped to bring out his laughter and enjoyed sharing his love for travel, especially taking rides in his Corvette. She made his final days happy.
With five full passports as evidence, traveling was one of Mr. Keller's passions in life. In his career he often traveled for work taking trips to Asia, Mexico and Europe. He truly enjoyed time with family and found ways to make work travel double as family vacations. One special trip in 1987 allowed him to take his family to Hong Kong, China, and Seoul, Korea, thus instilling a thirst for travel in his children. To this day, his daughter, Julie, still loves to travel.
Mr. Keller was always ready to take a road trip, as driving was almost a form of meditation for him. He planned at least one road trip a year with his grandchildren. The trips often involved driving to Florida to pick up one grandchild and taking that one to Delaware to visit another grandchild and then bringing them back to New York to finish the visit. With family all over the country, destination spots were never hard to find.
Many of the trips also involved some type of connection to historical reference places such as Washington, D.C. and Philadelphia. Mr. Keller wanted to support what the children were learning about in school. To him, travel was about sharing experiences, exploring and learning while spending quality time with the people he most loved, his family.
Mr. Keller also loved a good game of chess with his grandson, and he was proud when his grandson was recently able to win the game fair and square.
It is likely Mr. Keller earned his love for cars and tinkering with their mechanics from his dad, Al Keller, who was a NASCAR and Indianapolis 500 race car driver. The younger Mr. Keller's enthusiasm was again passed on from father to son when Mr. Keller and his son Brandon replaced the engine in his son, Brandon's Jeep.
Mr. Keller had a particularly handsome smirk and a twinkle in his eye when he joked with his family. He loved to laugh, and his laugh will be missed.
In addition to his 98-year-old mother, Mr. Keller is survived by his children: Julie (Frank) Keller Rizzo and Brandon (Yolanda) Keller; grandchildren: Elizabeth and Nolan Axford and Devin, Gabriel and Hannah Keller; sister, Ellyn (Greg) MacConnell; half-sister, Beth Keller Fitzgerald; mother-in-law, Alberta (nee Campbell) Kendzierski; fiancée, Kathleen Punch; fond brothers and sisters-in-law and many nieces and nephews. 
In addition to his wife and his father, he was predeceased by his father-in-law, Daniel Kendzierski; and half-brother, David Keller.
A Celebration of Life gathering will be held in his honor to share memories and lighthearted stories on Thu., July 22 from 5 – 7 p.m. at the Becker Farms Vineyard Pavilion. It will include a simple burger bar meal (veggie burger available upon request). Please RSVP by text or phone for catering purposes by July 1 to Julie Keller Rizzo at (716) 536-5101. Due to numerous vulnerable guests, please respect the family's request that a mask is worn if unvaccinated.
Memorial donations may be made to Roswell Park Cancer Institute by visiting www.roswellpark.org/giving or to Hospice of Buffalo by visiting www.hospicebuffalo.com.
The family entrusted arrangements to Lombardo Funeral Home, Southtowns Chapel, which offers an online space to share condolences at www.lombardofuneralhome.com.
****
Editor's Note: This obituary was originally written by Lifestyles Editor Jane Sullivan and published by Neighbor to Neighbor News in the East Aurora Advertiser on Feb. 11.