Adeline Klafehn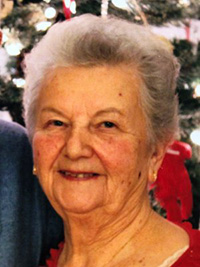 Adeline Klafehn, 91, of Kendall passed away Jan. 19, 2020. Adeline was born Sept. 26, 1928 in Rochester, NY, the daughter of Teofil and Yadwiga Bilinski, moving to Kendall with her parents as a young child. 
A graduate of Kendall Central School, Adeline for many years helped organize her Class of 1946 reunions. Adeline was a 32-year employee of the US Postal Service, serving 20 years as a Clerk at the Kendall Post Office and 12 years as Postmaster of the Morton Post Office. During her tenure, the Morton Post Office became the "communications center" of that little hamlet.
Adeline was a long-time member of Concordia Lutheran Church, where she was known as "The Flower Lady", seeing to the Sunday, Christmas and Easter floral arrangements. She also served as secretary of the Memorial Fund and member of the Worship & Music Committee and the Church Council.
In her spare time, Adeline tended her many beautiful flower beds, enjoyed baking and doing crafts, sewed "quillows" for her children and grandchildren, and cooked many memorable holiday dinners and desserts for her growing family. She was also a member of a card club that regularly met for 60 years and was featured in the book "Legendary Locals of Orleans County."
Adeline is survived by her son, Rod (Patty), of Laurens, NY; daughter, Susan (Donn) Pritchard; six grandchildren and eight great-grandchildren. She was predeceased by her husband of 68 years, Luther "Joe" Klafehn, in 2016.
Family and friends are invited to attend Adeline's Memorial Service at Concordia Lutheran Church, 1769 Kendall Rd., Kendall on Sat., Aug. 14, 2021 at 11 a.m.
In lieu of flowers, memorials may be made to Concordia Lutheran Church, 1769 Kendall Rd., Kendall, NY 14476; or Hospice of Orleans, P.O. Box 489, Albion, NY 14411.