William C. "Bill" Lewandowski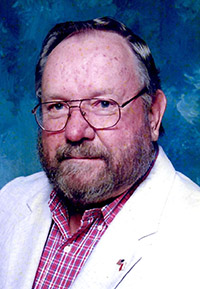 William C. "Bill" Lewandowski, 85, of Medina, NY went to be with the Lord and was reunited with his loving wife Colleen on Sun., Oct. 31, 2021 at the Orleans Community Health.
Born on Sept. 20, 1936 in Stephenson, Mich., he was the son of the late Frank and Gertrude (Duffrin) Lewandowski.
At the age of five, the Lewandowski family moved to the Medina area, Bill graduated from Medina High School and then enlisted in the U.S. Navy having proudly served on the aircraft carrier the USS Leyte. On returning home, Bill was an officer in the Medina Police Department and later was a beef cattle farmer and with the help of family and friends he built a log cabin home on his farm. Bill was a communicant of the former Sacred Heart Roman Catholic Church in Medina and later of St. Stephen's Roman Catholic Church in Middleport. Bill enjoyed feeding wild birds, hunting and fishing. Bill mostly enjoyed spending time with his family and friends.
Bill is survived by his two daughters: Doreen (David) Wolff of Lancaster, Pa. and Kathleen (David) Allen of Winter Park, Fla.; step-daughter, Amy Niethe of Cape Vincent, NY, eight grandchildren and four great-grandchildren; brother, Frank Lewandowski, and many nieces and nephews.
Besides his parents, Bill is predeceased by his second wife, Colleen; and his siblings: Joseph Lewandowski, Mary Ann Godlewski and Dorothy Santillo.
There are no calling hours. A Mass of Christian Burial will be celebrated at 11 a.m. on Fri., Nov. 5, 2021 at St. Stephen's Roman Catholic Church, 21 Vernon St., Middleport, NY 14105 with the Pastor, Rev. Bernard Nowak celebrating. Burial will be in the Sacred Heart Cemetery with full military honors being accorded.
In lieu of flowers, memorials may be made in Bill's name to: Orleans County Joint Veterans Council, 13996 Rt. 31 West, Albion, NY 14411.
Arrangements were entrusted to the Bogan & Tuttle Funeral Home, 226 Pearl St., Medina, NY 14103.
Please light a candle or share a memory of Bill at: www.bogantuttlefunerals.com