Edward "Scooter" Hillman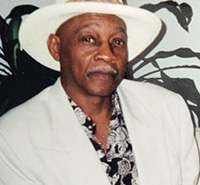 Edward "Scooter" Hillman was born in Atlanta, Ga. on June 7, 1941 to the late Early and Odessa Hillman, he was the youngest of two children. "Scooter" loved and cherished his sister Ruth Barron, who still lives in Atlanta. He moved to Albion, NY in the 1960s and married Dorothy Washington on March 8, 1968.
He was employed by General Motors for over 40 years at both the Rochester, NY and Parma, Ohio facilities before retiring at 68 years old. Every day he woke up and lived his life to the fullest. He was known for his generosity, if you were ever in need of anything he would give you money, the coat off his back or whatever else he had to help you out. If you were ever looking for him you could find him at a casino or card table with a ring on every finger, a money clip full of cash with gold chains around his neck. Although he wasn't a professional Nascar driver, you might disagree if you ever rode in a car with him, because he was hard on a vehicle. He was known for passing every car on the highway and calling them a "Jive Turkey" when he sped by.
On the afternoon of Wed., June 9, 2021 "Scooter" passed away two days after his 80th birthday. He will be missed by his loved ones, and everyone who knew him. He leaves to cherish his memory his only sibling, Ruth Barron; children: Gary Hillman, Darrin Hillman, Cassandra (Michael) Hadick and Kevin Hillman; grandchildren: Shardae, Kevin, Trevor, Destanee, Trenton, Kendyll, Kevin Jr., Devin, Rayonna; great-grandchild, Keishawn; best friend, Robert "Snake" Wise; and other relatives and friends.
Services for "Scooter" will be Sat., June 19, 2021 at Christopher Mitchell Funeral Home with calling hours from 10 a.m. to 12 p.m. and the funeral service to begin immediately after.
To share a special memory of Scooter, please visit: mitchellfamilyfuneralhomes.com