Oak Orchard joins campaign to 'Keep Your Holidays Healthy' by getting flu shots, vaccines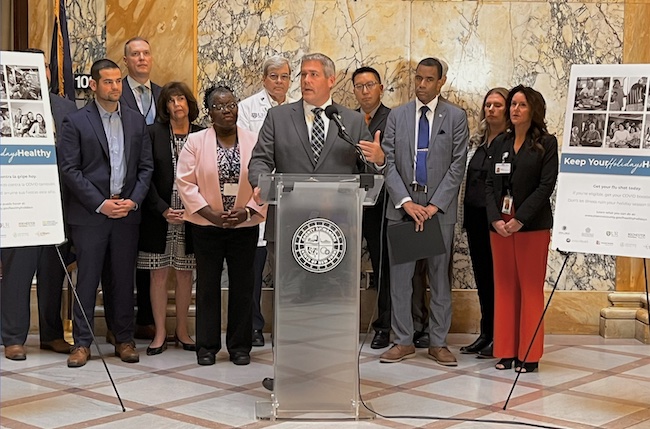 Photo and information from Oak Orchard Health
ROCHESTER — Karen Kinter, Oak Orchard Health's interim CEO, joined public health and government leaders in Monroe County recently to help launch the "Keep Your Holidays Healthy" campaign. (Kinter is shown in top photo at right while Adam Bello, Monroe County executive, speaks during a news conference.)
The campaign emphasizes the need for flu shots and Covid vaccines.
"Covid precautions greatly reduced flu cases the past few years," Bello said.
However, that isn't the case this year. National data from the Centers for Disease Control shows that flu hospitalizations for this time of year are at the highest level since 2010.
That is one reason why Oak Orchard Health has a program for walk-in flu shots and for the Pfizer Bivalent Covid Booster for ages 12-plus for its patients. Check the Oak Orchard website for the most up-to-date information.
"Oak Orchard Health's focus is to keep its patients and the community healthy, particularly during the holidays," Kinter said. "It's also important to keep our patients out of the hospital and one way is to get their updated vaccines, including the flu shot."
During the campaign announcement, she joined Bello, Rochester Mayor Malik Evans, and Dr. Michael Mendoza, Monroe County Public Health commissioner.