No new cases of Covid-19 in Orleans past 4 days
County has only added one new case in the past week

There are no new Covid-19 cases to report in Orleans County, the Genesee and Orleans County Health Departments said this afternoon.
The local Health Departments updated the confirmed cases in the two counties today for the first time since Thursday.
Orleans County has only had one new case in the past week. The county remains at 267 cases with seven people currently hospitalized from Covid-19.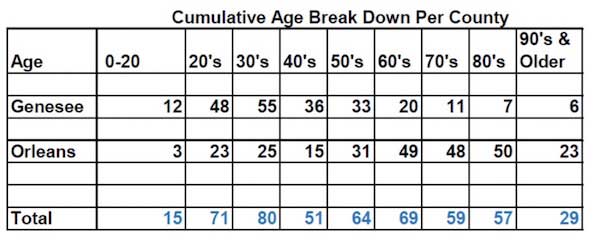 Genesee has three new confirmed cases, and now has had 228 people test positive for Covid-19.
The positive individuals reside in Batavia, Bethany and Oakfield. One of the positive individuals is in the 30s, one is in the 50s, and the other is in the 70s.
Two of the positive individuals were not on mandatory quarantine prior to testing positive. Genesee also has had three more recoveries, with that total now at 164. Genesee doesn't have any residents hospitalized from Covid-19.
Click here to see an online map of confirmed cases in Genesee, Orleans and Wyoming counties.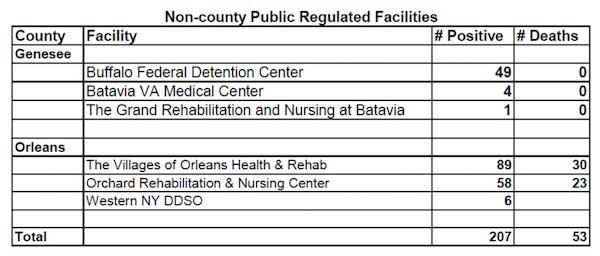 The facility breakdown is only showing the total positive cases from those facilities with positive cases of Covid-19.
More information from the Genesee and Orleans County Health Departments:
• Social Gatherings – According to Governor Cuomo's Executive Orders, all non-essential gatherings of up to 50 of individuals of any size for any reason (graduation parties, celebrations, or other social events) unless otherwise designated (ex. religious gatherings), are now allowed for those regions in phase 4. So long as appropriate social distancing, wearing cloth masks/face coverings over their mouth and nose, requirements are followed.
• Stay vigilant with social distancing – Please continue to make sure you are practicing social distancing especially if you have underlying health conditions or are over 65 years old. Wear masks/face coverings whenever you are out in public, especially if you cannot maintain a 6-foot space between non-household members. Wash or sanitize your hands and shared items often.
The most important thing to remember is if you are having any type of symptoms to STAY HOME! Some of the symptoms people have been reporting are fever or chills, cough, shortness of breath or difficulty breathing, muscle or body aches, new loss of taste and/or smell, sore throat, congestion or runny nose, headaches, fatigue nausea or vomiting and/or diarrhea.
• Travel Advisory – New York, New Jersey, and Connecticut announced that travelers from states with high coronavirus rates will be required to self-quarantine for 14 days.
As of July 2 those states include Alabama, Arkansas, Arizona, California, Florida, Georgia, Iowa, Idaho, Louisiana, Mississippi, Nevada, North Carolina, South Carolina, Tennessee, Texas and Utah. Those violating could be subject to a judicial order and mandatory quarantine and potential fines. These states may change at any time.
• Community Testing Sites – Check with the testing site for any specific criteria necessary for testing such as illness, contact with someone who tested positive, essential worker, required for reopening/business, etc. Many need to have a doctor referral/prescription. Always call first.
WellNow Urgent Care: 4189 Veterans Memorial Drive Batavia, NY 14020.
Rochester Regional Health Urgent Care: 16 Bank Street Batavia, NY 14020. (Rochester Regional Health has transitioned Covid-19 evaluations from the tents at 127 North Street to Urgent Care.)
Oak Orchard Health: 301 West Ave Albion, NY 14411. Call (585) 589-5613 to be screened and to schedule an appointment – no walk-ins
To find additional test sites nearest you, please click here.