No injuries after camper overturns on 63 in Shelby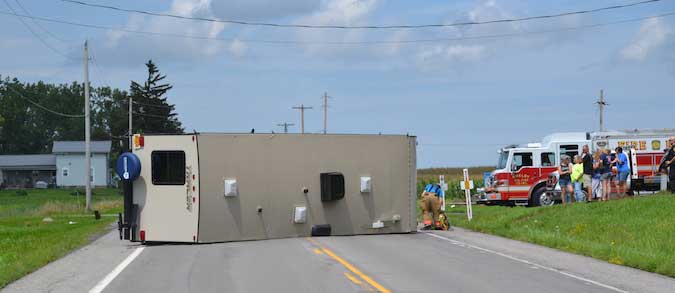 Photos by Tom Rivers
SHELBY – A camper overturned on Route 63 just south of Fletcher Chapel Road at about 1:10 p.m. today.
No one was inside the camper and the driver of a Silverado pickup truck also wasn't injured.
Marty Zwifka of Albion was driving the truck with the camper. He was part of a caravan of 4-H families in the horse program headed to the Erie County Fair in Hamburg. The camper was full of horse gear and outfits for the 4-Hers.
Thankfully, no kids were in the camper, said Teresa Zwifka, Marty's wife.
"No one was hurt. That's the main thing," she said.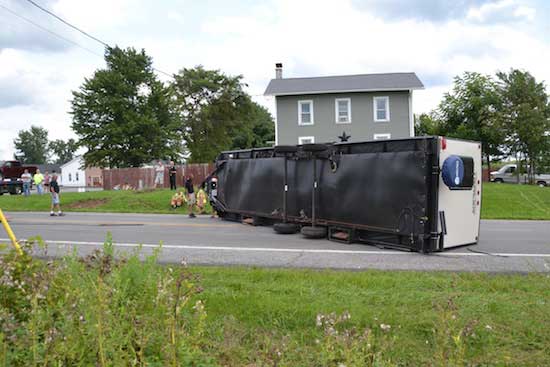 Zwifka moved over to make room for cyclists who were headed southbound. The camper started to fishtail and then overturned, an Orleans County Sheriff's deputy on the scene said.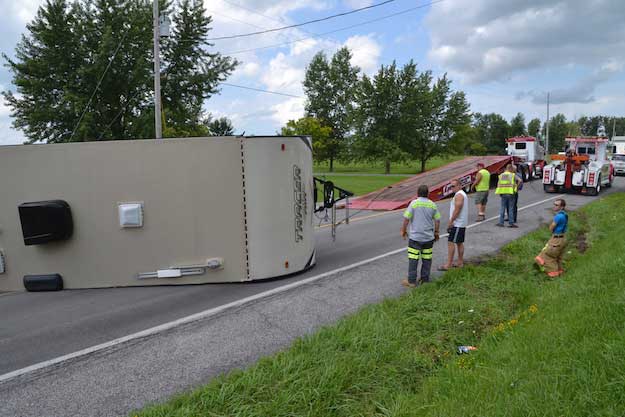 Lyon's Collision in Medina works to remove the camper from the roadway. A section of Route 63 was closed for more than an hour while the camper blocked traffic and the scene needed to be cleaned up.
The Shelby Volunteer Fire Company also assisted at the scene.