NHL star Brian Gionta presents awards at Albion
Students recognized for competing in Empire Games for the Physically Challenged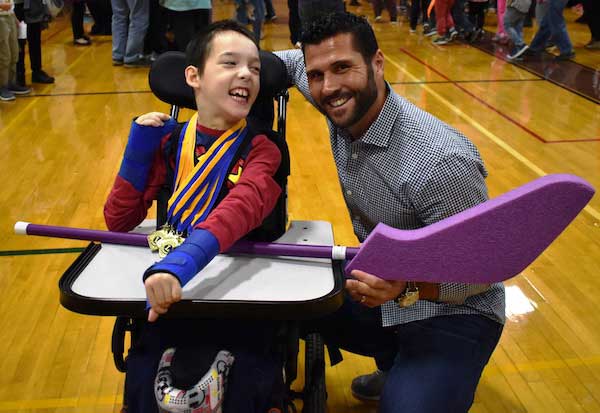 Photos courtesy of Sue Starkweather Miller from the Albion Central School
ALBION – Albion Central School last week celebrated students who competed in the Empire Games for the Physically Challenged.
A special guest, retired NHL star Brian Gionta, attended the ceremony and presented the athletes with their awards. Gionta, a Rochester native, scored 291 goals in a 16-year career. He was also captain of the U.S. Olympic hockey team.
Gionta, top photo, is shown with Hayden, who is a big hockey fan.
The middle school band played musical selections as student athletes entered the elementary school gym to a cheering audience of over 1,000 students, staff, and family members. The elementary school chorus sang several musical selections. Students watched to a video presentation of the athletes participating in the Games at SUNY Brockport.
Gionta, a former captain for the Buffalo Sabres, distributed ribbons and medals to each student athlete.  After the ceremony he took numerous photos with the athletes and their buddies.
The Empire Games for the Physically Challenged took place on Oct. 12 at SUNY Brockport. School districts from all across the region participated in many events on the Brockport campus. Albion's student athletes participated in the long jump, club throw, precision throw, distance kick, 40 meter race, 60 meter race, 100 meter race, slalom and the soft discus.
Each athlete had a high school "buddy" who attended the Games and assisted them through the day as they moved through their chosen events.
Student athletes included:
Asad Bacht
Morgan Brower
Hayden Button
Dejeanna Conner
Brook Drake
Ethan Ferchen
Analiah Figueroa-Fuentes
Kaitlynn Figueroa-Fuentes
Rebecca Fugate
Nick Garcia
Aubree Langmaid
Keira Lemcke
Tatiana Morales
Misty Dawn Mullins
David Musacchia
Gabrielle Payne
Adriana Pelligrino
Emily Richardson
Aliannah Snitzel