Newsroom owners in Albion entombed at mausoleum at St. Joseph's Cemetery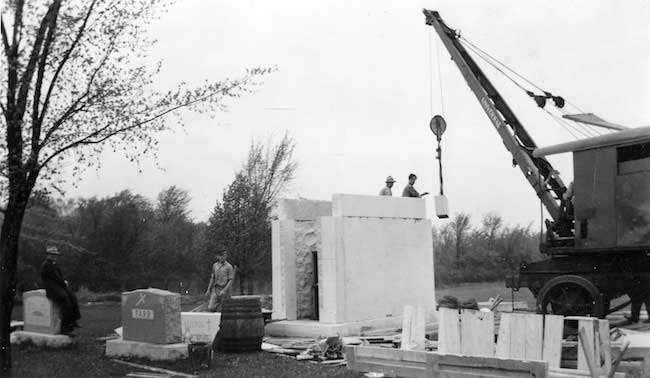 "Overlooked Orleans" – v. 5, no. 40
ALBION – Taken in May of 1942, this image shows men erecting the Dowd-Kellogg mausoleum at St. Joseph's Cemetery in Albion. William E. Karns of Albion was commissioned to build the first and only mausoleum at that that cemetery using 35 tons of granite shipped in from Barre, Vermont.
The structure stands 10 feet high, is 12 feet 7 inches long, and 7 feet 6 inches wide with a crypt built from Pennsylvania Black Ribbon slate finished with a bronze door with plate glass. A crane was used to lift the large blocks of stone into place, the man standing in front of the mausoleum was responsible for mixing the mortar that locked the stone into place.
Charles Dowd was the first interment made in the newly completed crypt after his death in November of the previous year. An ardent fan of the Notre Dame Fighting Irish, a 76-year-old Dowd found himself tied to the radio in his home on West Bank Street listening to the Notre Dame-Navy football game on November 8, 1941. Dowd suffered a massive heart attack as a result of the 20-13 victory over the "Middies"; far too exciting for an old gentleman's frail heart.
Before his death, Dowd operated a newsroom and tobacco shop at 13 E. Bank Street (occupied by the Golden Comb today) in Albion with his brother George. Upon his death, he left an estate valued at $10,000 to which he gave $100 each to St. Joseph's Church and St. Mary's Church in Albion, depositing the remainder in a bank account for his sister. Upon her death, the money was to pay for the upkeep of St. Joseph's Cemetery on Brown Road in Gaines.
The newsroom transitioned to his brother-in-law, Charles Kellogg, who had started his career in Dowd's newsroom. Kellogg was lucky to have survived into adulthood, having receive a near fatal gunshot wound as a young boy; a group of young lads led by a young son of Joseph Dibley were playing with a loaded revolver when it accidentally discharged, shooting Kellogg in the groin.
The newsroom operated by Kellogg was later sold to Newell Maxon of Medina and eventually was transferred to Carl Fischer and relocated to North Main Street (Fischer's Newsroom). Kellogg had his fair share of "toys" and frequently raced novelty automobiles at the Orleans County Fairgrounds. He was cited by local authorities on several occasions for driving his boat up and down the Canal at excessive speeds, once to the point where Canal employees threatened to remove the vessel from the water should he not abide by the laws.
Charles Kellogg and his wife, Mary Dowd Kellogg, are also entombed in the mausoleum.