New volunteers step up for food distribution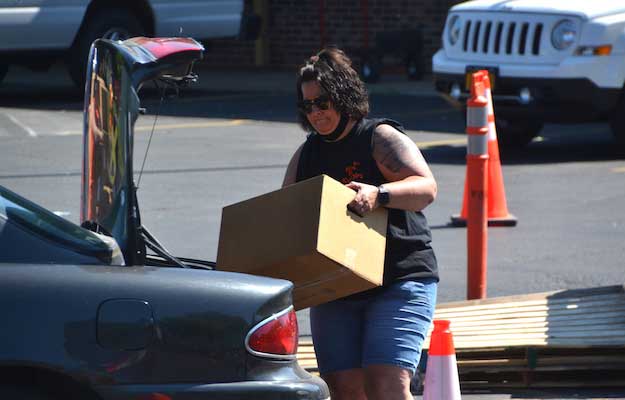 Photos by Tom Rivers
ALBION – Jodi Zeppetella, an insurance agent for Bentley Brothers Inc., carries a box to a trunk during Friday's food distribution in Albion.
The distribution is coordinated by Community Action of Orleans & Genesee and the Orleans County Office for the Aging.
The groups put a call out for volunteers and Bentley Brothers brought four employees on Friday, including owner Laura Olinger.
The Orleans County YMCA and CRFS also had staff help with the distribution for the first time in Albion. The Y has also been helping with the distributions in Medina.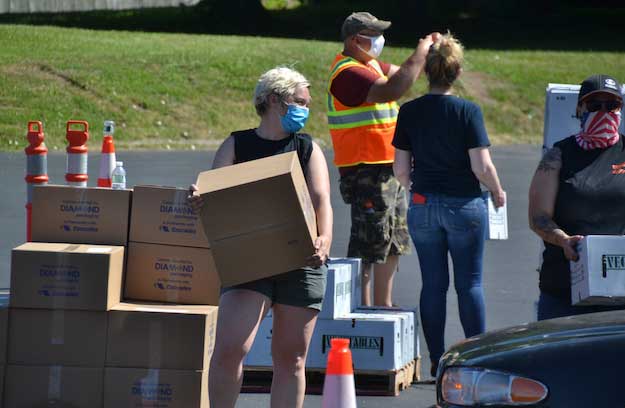 Laura Olinger, owner of Bentley Brothers, joined in the distribution. She was there with some of her employees including Jodi Zeppetella, Lisa Ray and Brianna Carr.
"I feel the need to give back," Olinger said. "It's the right thing to do for our community."
Next week the Friday distribution will be in Holley for the first time from 9:30 to 11:30 a.m. at parking lot for Holley Pharmacy and the former grocery store. People are getting three boxes: mixed dairy, cooked meat and produce. Each box weighs about 25 pounds.
This round of food distributions introduces a new state-funded program called Nourish New York. This funding allows Foodlink to purchase local product.
Some of the Foodlink product also is from the federal USDA's new initiative called CFAP (Coronavirus Food Assistance Program). In this program, distributors who would normally serve schools, restaurants, and municipal programs are able to pre-pack boxes of perishable product and deliver to distributions being done all over the country, said Melissa Blanar, OFA director in Orleans County.
The Cornell Cooperative Extension of Orleans County also is hosting a USDA farmers-to-families food distribution this coming Wednesday from 10 a.m. to 6 p.m. at the 4-H fairgrounds on Route 31 in Knowlesville. Those 1,200 boxes of produce each weigh about 20 pounds.