New state laws 'unchartered territory' for criminal justice system, DA says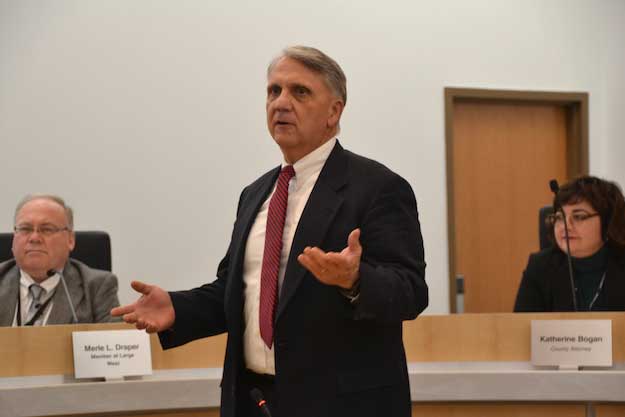 Photo by Tom Rivers
ALBION – Orleans County District Attorney Joe Cardone spoke at today's County Legislature meeting and shared concerns over new state laws that will eliminate bail for non-violent felonies and all misdemeanors and violations. (County Legislator Skip Draper, left, and County Attorney Kathy Bogan listen to Cardone's presentation.)
New discovery laws also mean defendants will be seeing names and addresses of informants and witnesses, and the DA's Office needs to turn over all documents and body cam video to the defense within 15 days of an arrest. That includes lab results. The DA currently has 45 days to provide all that information and lab results.
"This is unchartered territory for us with how our criminal justice system works," Cardone said during today's meeting. "These are all new things we've never had to deal with before."
Law enforcement officers and elected officials held many news conferences today around the state, including one in Clarence, urging the state to delay implementing the reforms.
The state hasn't provided funding to meet the new statues. In Orleans County, four new positions will need to be created – two in the District Attorney's Office and two in Probation – at an estimated cost of $350,000.
The State Legislature and Gov. Cuomo passed the discovery laws and bail reform as part of the state budget approved on March 31. Cardone said the legislation was snuck into the budget without feedback from the public or law enforcement community.
He worries people will be given appearance tickets and released into the community where they could be a danger to others and themselves.
Many people are arrested for drug crimes and time in jail can often help them get sober and be connected to treatment, Cardone said.
On Jan. 1, they will be released soon after an arrest.
Judges will be releasing most people facing felonies on their own recognizance, with an appearance ticket for an upcoming court date. (Another new requirement: Law enforcement officers need to get contact information from the defendants and send them reminders about court appearances.)
Judges can hold people in jail if they are charged with murder, violating orders of protection, rape and child pornography. Some felonies, such as second-degree manslaughter, illegal drug possession and sales, even second-degree robbery and second-degree burglary won't have options for bail.
"Our concern is we need to protect our local community," Cardone said. "These are very serious times and very serious concerns."