New signs headed to 4 Clarendon pioneer cemeteries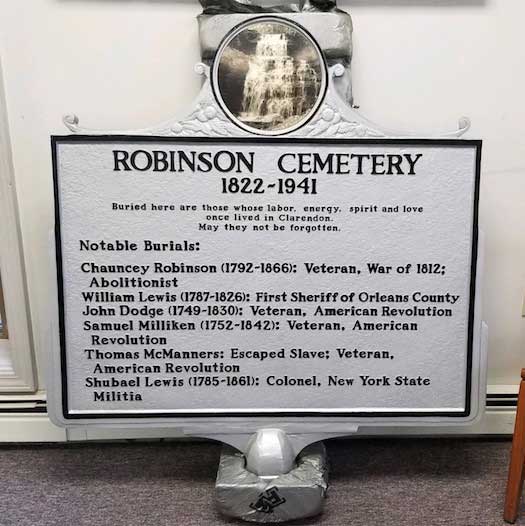 Photo courtesy of Melissa Ierlan
CLARENDON — The first of four new signs for Clarendon pioneer cemeteries arrived last week and will soon be installed at Robinson Cemetery on Route 237, near Glidden Road.
The town is replacing four wooden signs, which are rotted. Those signs went up in 1982, said Melissa Ierlan, the Clarendon town historian.
The town received a grant from the Elizabeth Dye Curtis Foundation in Orleans County for the new signs. The cast-aluminum signs are made by Sewah Studios in Ohio.
The signs include an image of the Clarendon water falls. They also have a quote from David Sturges Copeland, who wrote the History of Clarendon in 1889. "Buried here are those whose labor, energy, spirit and love once lived in Clarendon. May they not be forgotten."
The sign for Robinson Cemetery highlights some Clarendon residents buried in the cemetery, including Chauncey Robinson, a veteran of the War of 1812 who was a prominent abolitionist in the community.
Thomas McManners was an escaped slave who served in the American Revolution.
William Lewis was the first sheriff in Orleans County.
Ierlan said there is a chance the sign could be installed this week. She is waiting for the other three signs to arrive from Sewah Studios.