New sign promotes Holley Business Park
HOLLEY – There is a new sign promoting the Holley Business Park, a site off Route 31 that has low-cost electricity for companies.
The design, funding and installment of the sign was a collaborative effort among the village and the Orleans Economic Development Agency.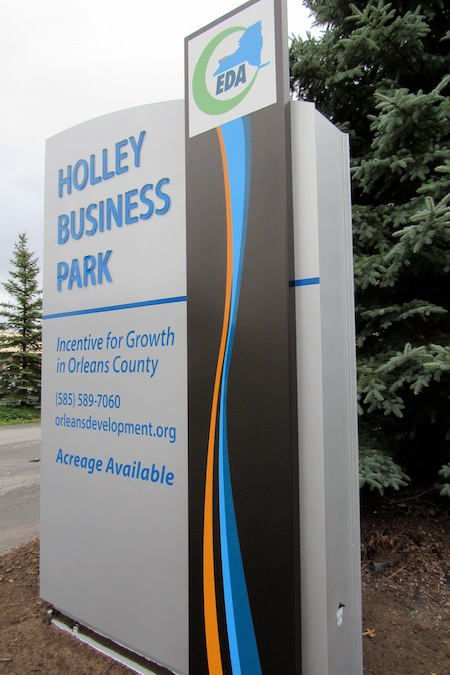 The Orleans EDA owns the business park. The new sign was installed by Holley's municipal electric and Department of Public Works. The village crew also removed the former sign.
"We spent a year and a half designing the new sign," said Jim Whipple, executive director of the Orleans EDA. "It is the same as the one in Medina and was budgeted ($10,000) for this year."
The sign was made by Takeform Architectural Graphics in Medina. Whipple credits Ken DeRoller and John DeFilipps, who serve on the EDA board of directors, along with County Legislature Chairman David Callard for assuring that funding for the sign was provided at the county level.
The sign, "provides a professional entrance to the park," Whipple said. "That is how we want to portray our properties in the county."
The sign is illuminated at night, and Campbell says landscaping will be installed in the spring.
Mayor Sorochty says he appreciates the efforts of the EDA and Orleans County in making the new sign a reality.
"It is a nice addition to the business park and shows the county's commitment to filling the park," he said.
Legislator DeFilipps added that the sign also demonstrates the county's "commitment to marketing the park," and the efforts of the county, the village and the Town of Murray to work together on the project.
Legislator DeRoller said the Business Park encompasses 45 acres and noted the sign will help to "incentivize anyone who has an interest in coming to Holley." He said Holley has much to offer businesses including municipal power and water.