New sergeant for Albion police takes oath of office

Photos by Tom Rivers
ALBION – Brandon Annable, a new sergeant for the Albion Police Department, takes the office on Wednesday evening during the Albion Village Board meeting. Village Clerk Linda Babcock, left, administers the oath while Annable's wife Tracy holds the Bible. Police Chief Roland Nenni is second from right and Lt. David Mogle is at right. Deputy Mayor Eileen Banker is in back.
Annable has worked for the Albion PD for five years as a patrolman. He started his career as a part-time officer in Middleport and Barker eight years ago and then worked for the Transit Police in Buffalo. He welcomed the chance to return to a village police force.
"I wanted to work in a small town where you're not just a number," he said Wednesday after the swearing-in.
Annable has proven an asset to the Albion police, providing leadership and serving as one of the field training officers for younger officers who join the department, said Police Chief Roland Nenni.
Albion's Police Department has become younger recently with several retirements of long-time officers. Nathaniel Staines, Guy Burke and Daryl Robb are all new hires, and the department has one more opening to fill.
The department has 13 officers when it's at full strength. Annable said he likes that his promotion isn't an administrative-only job. He will still be out doing patrols.
Nenni said the union for the police officers and Village Board recently amended the officers' contract where they work 12-hour shifts. That has cut down on overtime while boosting their base pay.
"It's had zero impact on the budget and it allows officers to have more time off," Nenni said.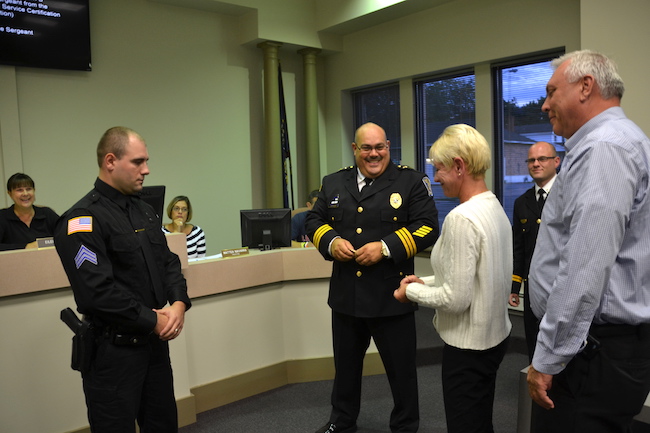 Sgt. Brandon Annable's parents, Audrey and Ross, were part of the swearing-in. Annable's mother pinned on the collar brass and his father pinned on his son's badge.