New Ridgeway bridge on 104 gets praise for safety enhancements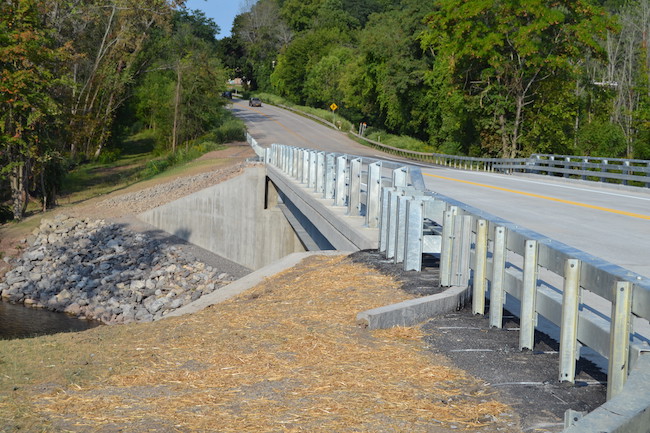 Press Release and photos from NYS Department of Transportation
RIDGEWAY – New York State Department of Transportation Commissioner Marie Therese Dominguez today announced that the recently completed project to replace the State Route 104 Bridge over Oak Orchard Creek in Orleans County was honored as the American Public Works Association's Project of the Year in the Genesee Valley Chapter's "Structures less than $5 million" category.
The project was recognized for its critical community investment and safety enhancements for travelers.
"The safety of the traveling public and the vitality of our communities are always top priorities at the Department of Transportation and this award for the State Route 104 Bridge Replacement Project is a symbol of our commitment to those priorities," said Commissioner Dominguez. "The project enhanced safety and helped ensure that a vitally important crossing in Orleans County will remain open for many years to come. I want to congratulate the NYSDOT staff, whose tireless work helped achieve this recognition and for their dedication to safety, service and excellence – values they demonstrate each and every day."
In honoring the project, the APWA cited several factors, including:
Use of good construction management techniques by employing the Governor's Drivers First Initiatives and prioritizing convenience for motorists.
Efforts to engage members of the community who utilize Oak Orchard Creek for recreational kayaking and canoeing.
Attention to the environment and wildlife immediately impacted by construction and the altered bridge footprint.
Commitment to sustainability and use of engineering components that help reduce deterioration and decrease the need for future maintenance.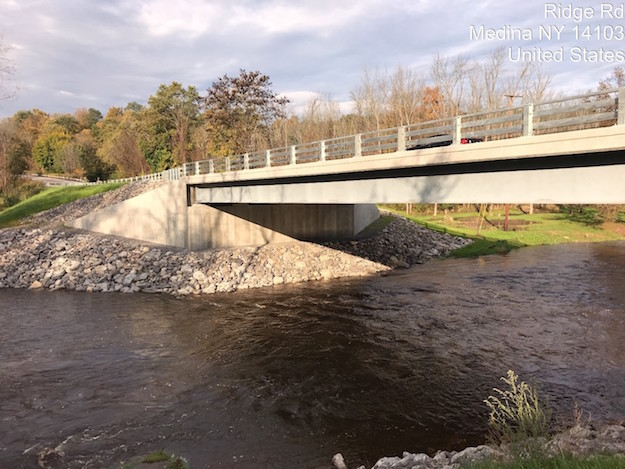 The project installed a 125-foot, single-span bridge with minimal disruption to the traveling public. It was completed in September, on time and under budget. State Route 104 is a key vital connector used by the local agricultural and manufacturing industries to reach the Rochester area to the east and the Niagara community in the west.
Senator Robert G. Ortt said, "The State Route 104 Bridge project over Oak Orchard Creek in Orleans County should be applauded for its outstanding success and serve as a blueprint for future joint construction efforts between local and state governments. By working together, Orleans County and New York State were able to deliver a completed project that will benefit the residents of Orleans County and travelers passing through our Western New York region. I am proud that the American Public Works Association has decided to honor this incredible project and will give it the recognition it deserves."
Assemblyman Stephen Hawley said, "Protecting the roadways traveled by families and commercial and emergency vehicles is one of our state government's most important functions, so I was happy to see the work done to replace the Oak Orchard Creek bridge in Orleans County acknowledged by the American Public Works Association. It was a critical project that delivered an amazing end result for all who travel along Route 104 between Ridgeway and Gaines. My hat goes off to all involved both in planning the project and working on the ground to make it a reality."