New president takes the reins for Albion Rotary Club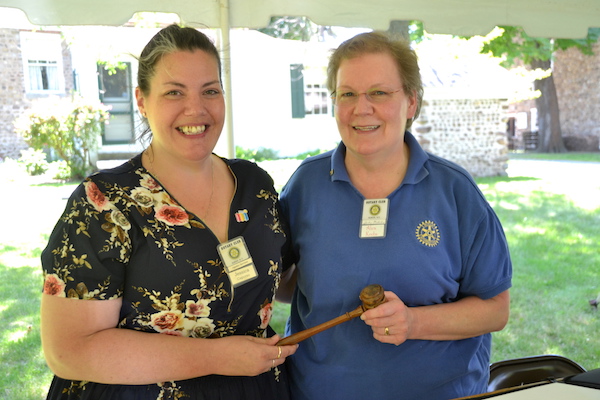 Photos by Tom Rivers
GAINES – Jessica Capurso, left, is handed the president's gavel last week from outgoing president Alex Krebs during a Rotary Club meeting held outside under a tent at the Cobblestone Museum.
Capurso works as director of Outreach, Education and Marketing at Community Partners for Orleans Community Health.
It was a difficult year for the Rotary Club, with the club meeting through Zoom video conferencing and most of its fundraisers and community events cancelled due to Covid-19.
The club recently returned to in-person meetings for Thursdays at lunch. Those are currently being held at the Cobblestone Museum. People can still participate through Zoom.
The Rotary Club is looking forward to its upcoming golf tournament on July 15 at Shelridge Country Club. Golfers can still sign up at $90. Call or text (585) 703-3159 or (585) 261-2307 for more information. Proceeds from the tournament will go towards the Leadership Orleans program and a transportation program through Office for the Aging.
The changing of the guard meeting last week included a remembrance for four people who have recently passed away who were influential with the Rotary Club.
The club reflected on the lives of the late Ed Fancher, Al Capurso and Rollie Kast, who were all dedicated community members. The club also highlighted the late Patricia Shelp, wife of long-time Rotarian Brad Shelp. Mrs. Shelp was a Paul Harris Fellow, Rotary's highest award. She was a dedicated Albion school teacher, speech therapist and librarian.
"All loved their families and the community and exemplified the Rotary motto of 'Service Above Self,'" said Rotarian Bonnie Malakie.