New pavilion/bandstand headed to State Street Park in Medina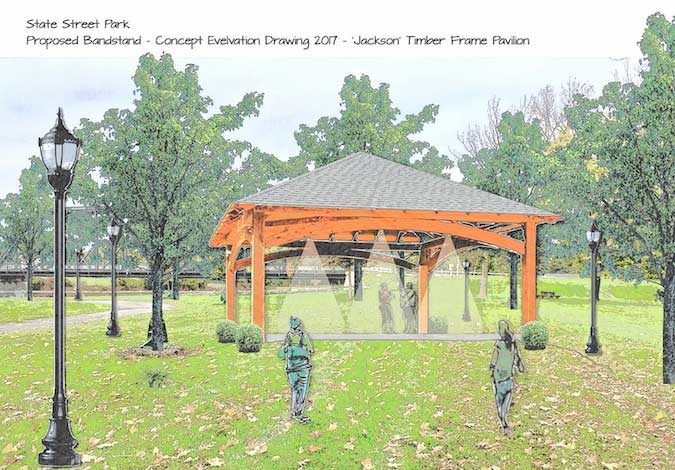 Press Release, Medina Waterfront Development Committee
MEDINA – When conjuring up a nostalgic "Norman Rockwell" picture of small-town America, one of the most iconic images that come to mind is the picturesque village park and the old bandstand.
They come in all shapes, sizes and colors. Often nestled under stately trees on the village green or central park, they are gathering places for the community; a place where memories are made.
Citizens assemble to hear musical performances and public speeches or stop by for a shaded place to rest and watch the world go by.
State Street Park – "City Park" as it was once known – has long been that gathering place for the Medina community with one exception – no bandstand.
But that's about to change.
As part of its ongoing review of Medina's waterfront, the village Waterfront Development Committee has taken a keen interest in a short-list of "doable" projects that can be readily accomplished in the short term.
On that "short list" are projects in State Street Park. In addition to their efforts to rehabilitate the World War I Memorial cannon, the committee has been cultivating plans to develop the north end of the park, adjacent to the canal. Working with the Orleans Renaissance Group, the Mayor & Village Board of Trustees, Village Tree Board, Village DPW & Building Dept., Iroquois Job Corps and others, those plans are now coming to fruition.
"The north end of the park is really a beautiful and spacious area," said Kathy Blackburn, chairperson of the committee. "It is an idyllic setting to develop as a community gathering space on the Erie Canal."
Sugar maple, elm and cherry trees were planted at the site in 2016 in anticipation of adding a bandstand. Other site improvements will be made as funds become available.
"Once the site has been fully developed, it will be beautiful- something Medina is going to be very proud of," said Blackburn. "The bandstand will be a multi-purpose venue, able to be used for a variety of events."
Two years ago, The Orleans Renaissance Group began exploring the possibility of erecting a bandstand structure in State Street Park that could be used as a summer music venue and as a place to host outdoor movies. With the formation of the Waterfront Development Committee, the project has gained some steam.
"The structure will actually be much more than a traditional bandstand," said Blackburn. "It will be a 20′ x 24′ timber frame pavilion with a raised concrete floor; a one-of-a-kind custom made in Ellington, Connecticut. With authentic post and beam construction, and timbers connected using mortise and tenon joinery, it will have a very historic look. It will definitely make a statement."
One group that is very excited about the possibilities that come with such a structure is ORG.
"One of the things missing in terms of our ability to offer a wider variety of music events is a suitable summer venue for a blues concert series or film series," said Cindy Robinson, secretary of ORG and president of the Medina Business Association. "We've been able to host many great concert events of a more classic style, but this will open up many new possibilities for us."
According to Robinson, one of those possibilities is a family-friendly film series of kid-classics.
"We envision family movie nights in the park with some great classic kid films. We're very excited about that." Other possibilities being explored by ORG are summer concert series.
"We've been looking at the model used in Lewiston for some time," said Chris Busch, president of ORG. "'Blue Mondays' in Lewiston's Hennepin Park have been a community staple for years. They are very popular and are very successful. We've wanted to host a similar series for sometime now, but without a suitable venue we've been stymied. This new site will change that."
Blue Mondays are sponsored by the Lewiston Council on the Arts and occur every Monday in July from 7-9 p.m. in Lewiston's Hennipen Park and are free to the public.
Medina Mayor Mike Sidari added some "big picture" perspective to the park improvements.
"We're seeing a great deal of positive resurgence across several areas of the village – within the business district, home sales in our neighborhoods and with industry expressing interest in either locating here or expanding current operations," said Sidari. "The addition of these kind of amenities to our parks are part of that positive resurgence that improves the quality of life for all residents and makes Medina an attractive place to live and invest."
According to Blackburn, the lion's share of the funding for this project is in place, but additional community support is both welcome and needed.
"As the mayor said, there are many great things are happening in Medina," said Kathy Blackburn. "But none of them have just 'happened'- they happen because good people who care about their community make them happen. The projects we are working on need your support!"
Blackburn states the timeline for construction is late summer of this year.
Anyone wishing to support the construction of the bandstand may do so by sending a donation to the Orleans Renaissance Group, Inc., PO Box 543, Medina, NY with the notation "bandstand project".