New historical marker recognizes WWII vets, kids who built park in Medina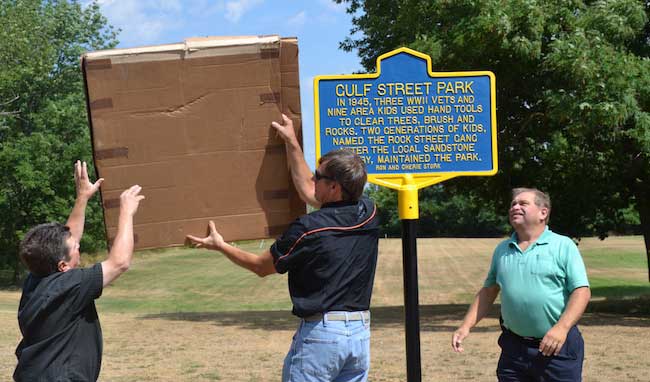 Photos by Tom Rivers
MEDINA – A historical marker was unveiled this morning in Medina for Gulf Street Park. Pictured from left include Ron Stork, Don Sloper and Mayor Mike Sidari.
Stork and his wife Cherie pushed to have the marker installed. They wanted to recognized three World War II veterans who returned home in 1945 and worked with neighborhood kids to create the park.
Children used to play in the street before the WWII veterans – Pepper Santillo, John Santillo and Chester Kwiatkowski – worked with the local kids to clear out a field that was overgrown with brush and weeds.
"They did it to have a park so the kids could have a safe place to play," Stork said.
They used axes and trimmers to remove small trees and brush. They also had to move rocks. They neighborhood kids who helped included Tony Kwiatkowski, Jack Parada, Frank Stack, Walter Stack, Frank Bunchuck, Greg Pope, Bernie Dujenski, Dell Stork and Sam Santillo.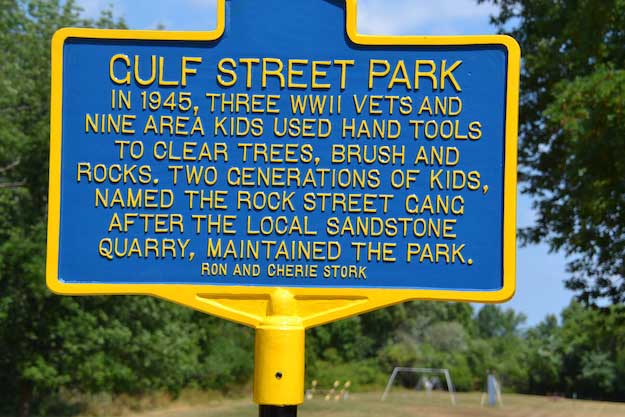 Dell Stork, the last survivor of the group, is now 86. He shared the history with his son Ron, who wanted to immortalize the efforts of the group in making the park, which is located at 141 Stork Street.
"It's a very interesting history," Mayor Mike Sidari said. "The World War II veterans did their service over there, they came home and they did a service for the community."
The kids set up a baseball field at the park and their team was known as "The Rock Street Gang." The played other teams in Medina. They were typically neighborhood games, and the teams didn't have uniforms.
The Gulf Street Park is just north of the original Ryan quarry, the first commercial Medina sandstone quarry (just north of the Erie Canal by the lift bridge). Sandstone is prominent not too far under the grass.
A second generation of kids helped to widen and care for the field in the 1940s and '50s, including Chester Maryjankowski, Joe Maryjankowski, Rocco Pope, Don Bloom, Tony Bielak, Tony Parada, Ed Parada, Walter Lewandowski, Bill Lewandowski, Frank Lewandowski, Edwin Washak, Ed Johnson, Eugene Wanecski, Ron Washak, Bernie Parada and Frank Mencelwicz.
In the late 1960s, some of the residents had bake sales to buy playground equipment. The park is owned by the Village of Medina.
Mayor Sidari said new playground equipment geared for children ages 2 to 5 is coming for State Street Park and ages 5 to 12 for Butts Park. The village would like to upgrade more playground equipment in the future, he said.