New historical marker dedicated for Revolutionary War hero
Marquis de Lafayette, French military officer, provided critical aid to George Washington in securing American independence
ALBION – A new historical marker, in a distinctive blue background with red trim, was unveiled on Wednesday by the Erie Canal in Albion in honor of a French military officer who provided critical aid to Continental Army in securing American independence from the British monarchy.
Marquis de Lafayette returned to the United States in 1824 for a farewell tour that was intended to last four months. It turned into a 16-month visit that included a journey along the Erie Canal through Orleans County.
Lafayette rode in a packet boat in full regalia that was pulled by a team of white horses from Lockport to Rochester on June 6-7, 1825, four months before the canal officially opened.
Lafayette was given a hero's welcome from the Americans. He passed through Albion which was then known as Newport.
Albion service learning students and the Seventh Grade History Club teamed with the DAR (Daughters of American Revolution) and the William G. Pomeroy Foundation to erect the marker, which was installed by the Village of Albion Department of Public Works.
The marker notes Lafayette's journey on the Erie Canal during the farewell tour, and includes the Lafayette Trail logo. The Lafayette Trail Inc. is planning bicentennial celebrations of Lafayette's farewell tour in 2024-2025.
The group is pushing to have 175 markers in place to commemorate the tour. That includes 11 in New York State.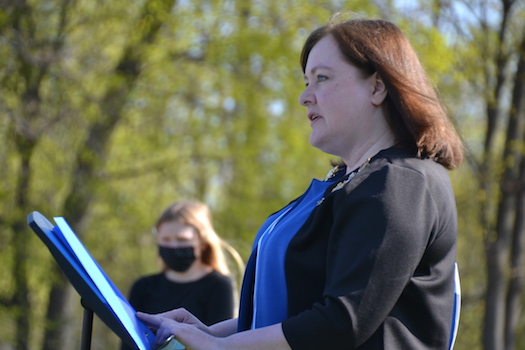 Patrice Birner, state regent of the DAR, spoke at the dedication event. Birner, a Middleport resident, said the DAR is supporting the historical markers for Lafayette, who she called "a rock star" who helped secure the country's independence.
She plans to attend dedication ceremonies next month for Lafayette in Niagara Falls and Brooklyn.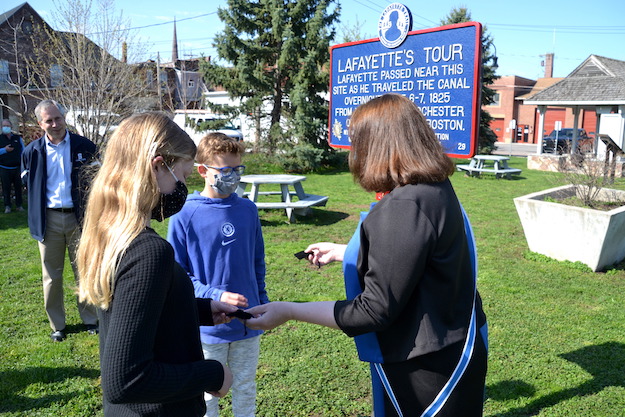 Birner presented pins with Lafayette's signature to Justin Kania and Kaitlin Bennett, two Albion seventh-graders who participated in the marker's unveiling. Tim Archer, left, is the service learning teacher at Albion.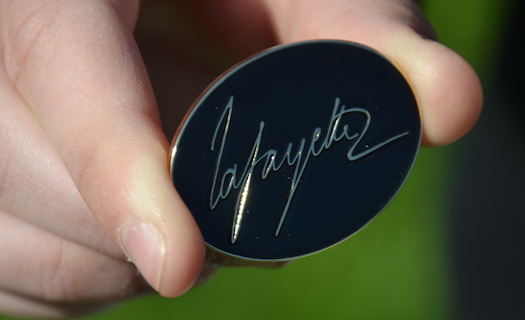 Kaitlin Bennett holds one of the pins with Lafayette's signature.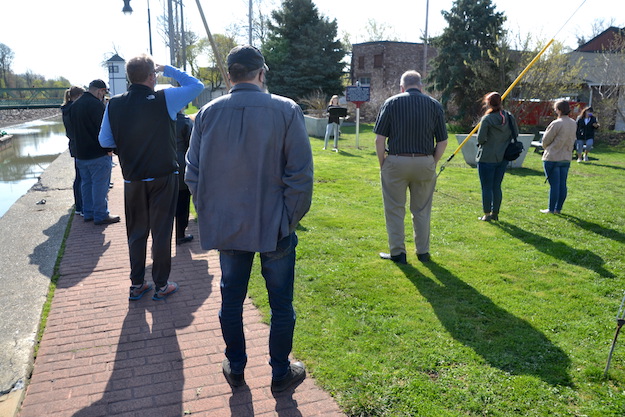 Kaitlin Bennett speaks at the marker's unveiling, calling Lafayette "The Hero of Two Worlds." He commanded U.S. forces in several battles, including the siege of Yorktown, which proved the fatal blow to the British.
"He was a significant man in our country's history who can here to help us," Kaitlin said.
When Lafayette returned to France, he was imprisoned for five years due to his role as a monarch. Lafayette was released by Napoleon Bonaparte in 1797.
Lafayette would later served in the French government. He died on may 20, 1834 and is buried in a Paris cemetery under soil gathered from Bunker Hill.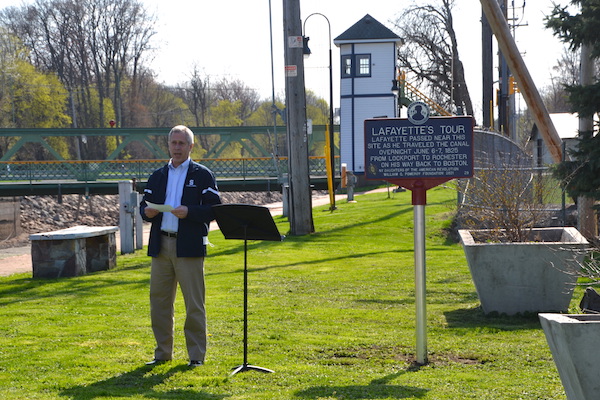 Albion teacher Tim Archer thanked the organizations for supporting the new marker, which he said helps tell local history.
For more on the Lafayette Trail, click here.