New historic marker in Albion honors Henry Spencer, U of R's first Black student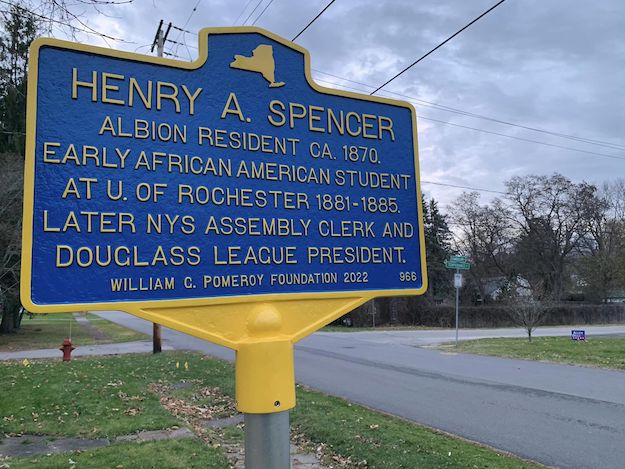 Photo by Tom Rivers
ALBION – A new historical marker was installed last month on Chamberlain Street in Albion, near Temperance Street.
The marker honors Henry A. Spencer, an Albion native who was the first African-American student at the University of Rochester. The marker is by the childhood home of Spencer on Chamberlain Street.
Spencer was a pall bearer for Frederick Douglass's funeral, a member of Frederick Douglass Memorial Committee, and secretary for the NYS Assembly.
The $1,500 cost for the marker was paid for by the Pomeroy Foundation. The effort was spearheaded by Tim Archer's seventh-grade service learning class at Albion Middle School.
The Albion Department of Public Works installed the new marker.
Spencer's father came to Western New York with local Union army officers at the conclusion of the Civil War. The father, Henry Spencer, arrived in Orleans County with Lt. Hiram Sickels of the 17th New York Light Independent Artillery sometime around 1866, and then brought his wife and children to the area, former County Historian Matt Ballard wrote in a column published on Feb. 22, 2020.
One of Spencer's sons, Henry Austin, worked as an errand boy as a teen-ager and also attended local schools, but only for about three months out of the year. He would then attend a boarding school in Philadelphia and then the Brockport Normal School where he graduated in 1880 as the Gamma Sigma orator, an honor that earned him a full scholarship to the University of Rochester.
After the U of R, he studied law under the Hon. George H. Smith of Rochester. Spencer would then be appointed to a position in Albany in the speaker's room thanks to a former University of Rochester classmate, Hon. James M. E. O'Grady, according to Ballard's research.
When S. Fred Nixon assumed the role as speaker of the State Assembly, Spencer was appointed as Nixon's confidential clerk, a position which he continued to hold through the tenure of the Hon. James Wadsworth, Jr.
"Upon his retirement in 1929, he had served in government for over 30 years and worked for a period of time under Governor Alfred E. Smith and other prominent state officials," Ballard wrote. "At the time of his death on September 25, 1935 in Rochester, he was one of the area's more prominent African-American citizens. He was a past grand master of the New York State Colored Masons, an organization which consisted of over 2,000 members across New York."