New handyman program will assist seniors with minor household repairs
Community Action, Office for the Aging team up for the service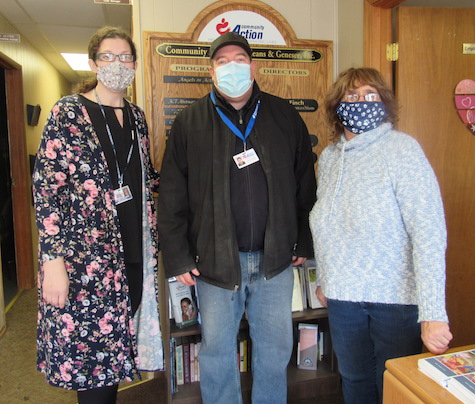 ALBION – A handyman to perform minor repairs for seniors in Orleans County is something Orleans County Office for the Aging's director Melissa Blanar has wanted for years.
Annette Finch, director of Emergency Services for Community Action, said it has been a dream of hers for a very long time.
The dream has been realized with the announcement of James Westphal of Albion, hired as county's first handyman.
His position is funded by a $10,000 grant from the WNY Covid-19 Community Response Fund, which Finch learned about and applied for. It is effective until 2023.
"This gives Melissa and I the opportunity to look for other grants to continue the service," Finch said.
"We are very excited about this program," Blanar said. "We get calls all the time from seniors who don't have family in the area."
"Now they have a place to turn," Finch said.
Westphal is highly qualified for the handyman position, Finch said. He also had to pass a background check because the job requires him to go into the homes of senior citizens.
Westphal had been working as an inspector for power plants, when his job was terminated due to cutbacks in the Covid pandemic.
"We gave him this opportunity to go back to work," Finch said. "He is very friendly and everybody loves him."
Prior to his job as a power plant inspector, Westphal worked for 15 years as a sales person for Coca Cola and Budweiser.
"I enjoy having a job," he said.
The handyman position is part time now, but Finch hopes she'll be able to eventually put him on full time.
Westphal knows Community Action's maintenance supervisor Greg Gilman, and works together with him very well, Finch said.
The handyman service is available to seniors 60 or older who reside in Orleans County, Blanar said.
Finch would love to be able to offer it in the future to disabled younger adults.
Finch said the service is a collaboration between Community Action and the Office for the Aging. Community Action acquired the grant and hired the handyman, while the Office for the Aging will accept and screen requests for handyman projects.
Requests for minor repair work can be made by calling Samantha at the Office for the Aging at 589-2863, between the hours of 9 a.m. to 2 p.m., Monday through Friday.
The types of projects Westphal will be able to handle include installing handrails, grab bars or handheld shower heads; installing smoke detectors or carbon monoxide detectors; repairing stairs; minor ramp repairs; limited window repairs; minor electrical repairs; replacing lightbulbs; taking out or installing window air conditioners; fixing faucets; unclogging drains; minor flooring repairs; minor roof patching; weather stripping; adjusting doors; repairing existing storm doors; installing locksets and deadbolts; installing heat tape; and repairing or installing mailboxes.
Some projects may be ineligible for the handyman service, or if there is a job which Westphal can't do, Community Action or the Office for the Aging will refer it to the appropriate agency, Blanar said. For instance, if a furnace quit, it could be referred to HEAP.
In a case where a repair might be expensive, the senior might be asked to pay for the materials, Finch said.