New group of volunteers step up at food distribution this morning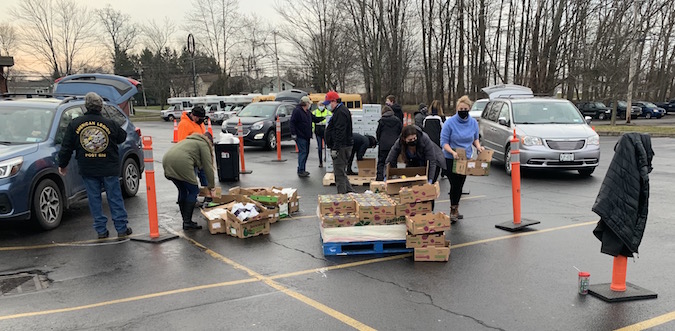 Photos by Tom Rivers
ALBION – Volunteers, nearly all for the first time this morning, help distribute food in Albion from the parking lot at the Main Street Thrift Store.
The U.S. Department of Agriculture funds the USDA Farmers to Families Food Box Program nation-wide. It is expected to continue locally through February.
The schedule for the rets of January includes:
January 22nd, Orleans County Cornell Cooperative Extension, 4-H Fairgrounds, 12690 NYS Route 31, Knowlesville, entrance is on Taylor Hill Road and not on Route 31. The line on Taylor Hill will need to go south away from Route 31.
January 29th, Community Action Store, 113 South Main Street, Albion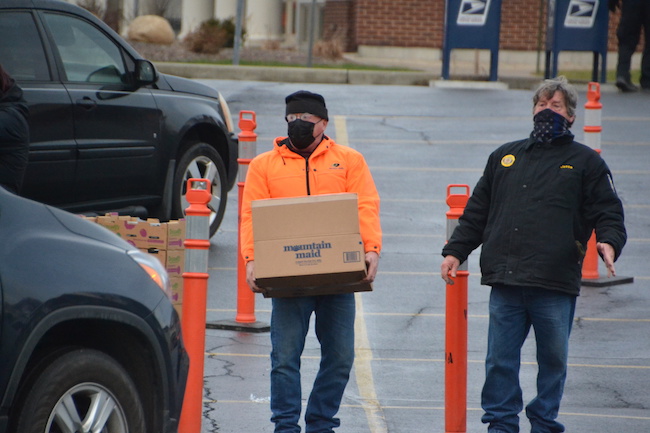 John Kurtz of Albion, left, carries a box of food with produce, meat and dairy this morning. Jesse Underwood of Clarendon is at right. He volunteered as a member of ABATE, a local group of motorcyclists.
Cars started to line up around 6, about two hours before the event started.
Kurtz and Underwood were among a new group of volunteers at the event coordinated by the Orleans County Office for the Aging and Community Action of Orleans & Genesee.
"There are a lot more people in need right now," Underwood said.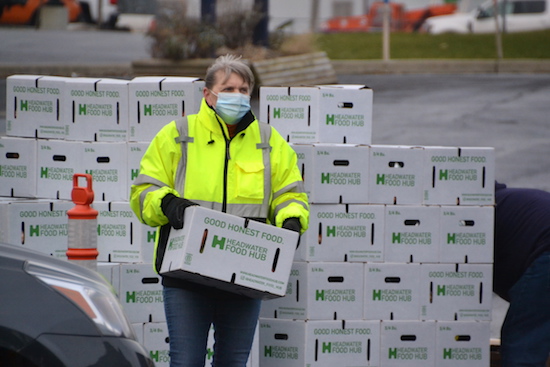 Leslie Spofford of Clarendon also volunteered for the first time this morning at a food distribution, which has been happening most weeks locally since April. Spofford had the day off from her job as Runnings in Brockport and wanted to help.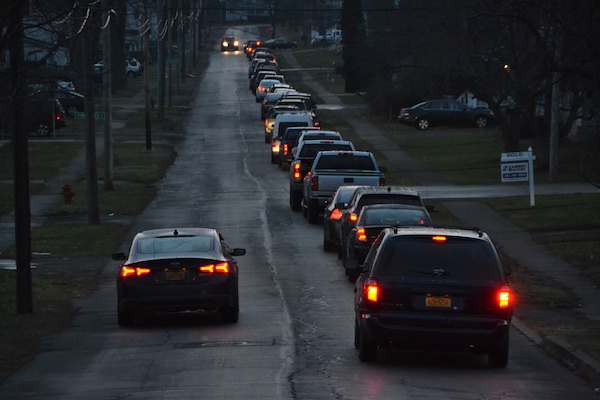 By 7:30 this morning the line of cars was down three streets in Albion. This shows vehicles on East Park Street. They were also waiting on McKinstry and Chamberlain streets.
About 300 boxes of food are given away at the events. The start times are approximately 8:30 a.m. (If the Foodlink truck is there and unloaded, the event may start sooner.) Organizers are ask people not to line up before 8 a.m. due to possible winter weather conditions.