New Gaines town justice sworn into office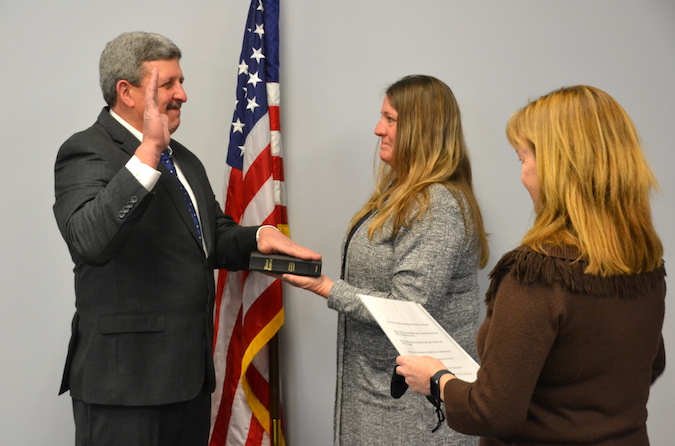 Photos by Tom Rivers
GAINES – Charles Prentice Jr. takes the oath of office this morning in the Gaines Town Hall. He is joined by his wife, Laural, who is holding the Bible.
Orleans County Clerk Nadine Hanlon administered the oath.
Prentice, 57, is a retired state corrections officer and also has worked as a paramedic for 40 years, currently working part-time with the Le Roy Ambulance Service.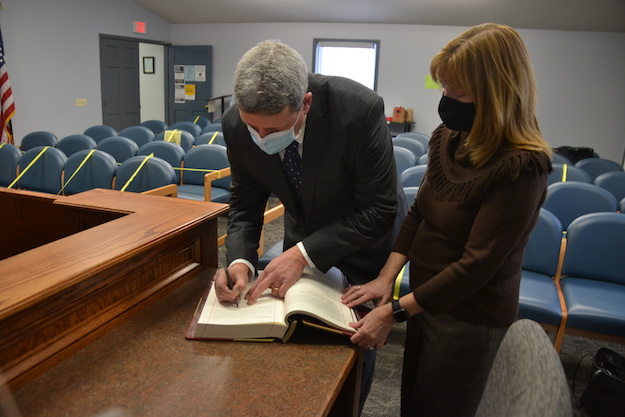 Chuck Prentice signs the oath of office in the main meeting room of the Gaines Town Hall. He won a Republican primary last June and then the general election in November. He replaces Bruce Schmidt, who retired from the position.
Prentice completed a 40-hour training last month through the New York State Magistrates Association.
He will preside over town court three times a month, including for the first time on Jan. 12. He also will do arraignments at all hours of the day.
Other town officials starting new terms on Jan. 1 include Tyler Allport as town supervisor, Susan Heard as town clerk, and James Kirby and Kenneth Rush on the Town Board.