New farmers' market opens in Albion on Sundays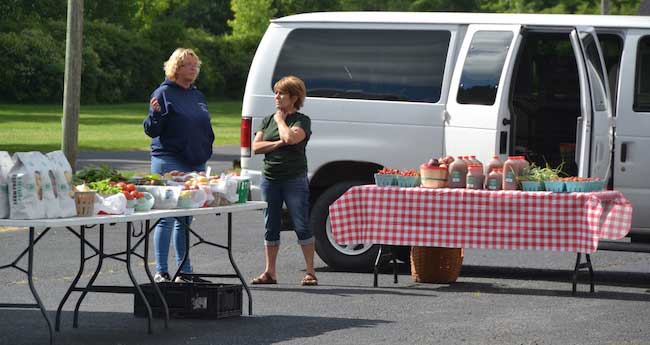 Photos by Tom Rivers
ALBION – The Westside Market, a new farmers' market in Albion, was open for the second week today at the former Billy's Pub location at 438 West Ave.
The top photo shows Stymus Farms and Kirby's Cider Mill with some of their early season offerings. They will both have more available later this summer and fall.
The market is open on Sundays from 8 a.m. to 1 p.m. and will continue through Oct. 27.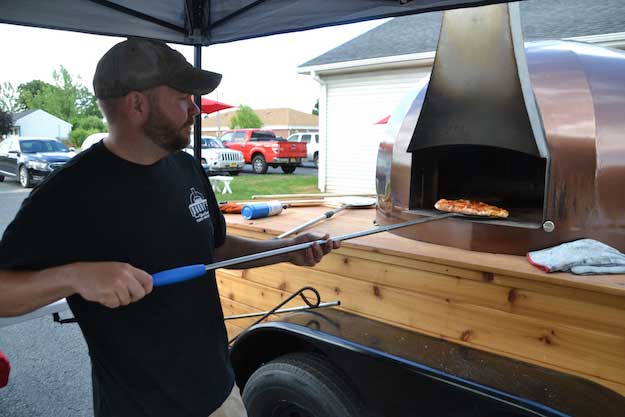 Brian Alexander, co-owner of Dubby's Wood Fired Pizza, pulls a pizza out of the oven. Dubby's debuted at the Albion Strawberry Festival earlier this month.
Brian and his wife Rebecca Alexander live in Carlton. They have a special breakfast pizza – sausage, gravy, potatoes, eggs and cheese (with a drizzle of maple syrup) – they serve at the Albion market.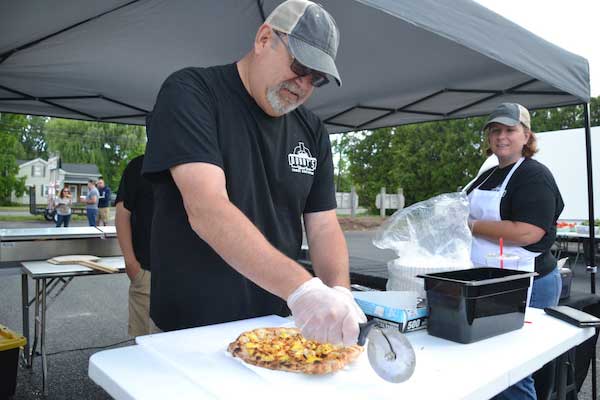 Steve Culmo of Dubby's cuts the slices of the breakfast pizza.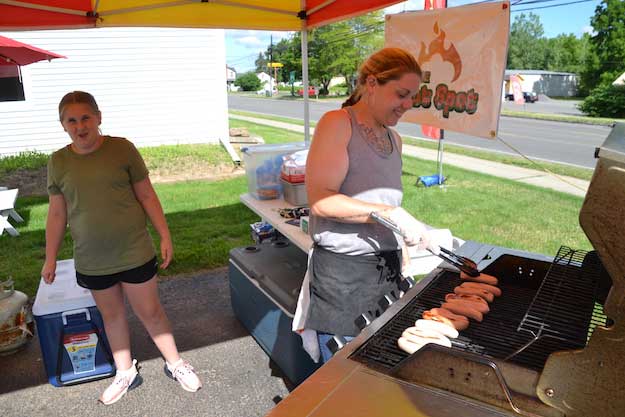 Heather Allchin, co-owner of The Hot Spot, grills hot dogs and hamburgers. Her daughter Leah Pawlak also made cookies that were for sale. The Hot Spot debuted on May 1 and has been based at the parking lot for Ace Hardware in Albion.
Allchin said the new farmers' market is very visible on Route 31 with good parking.
Other vendors today included OG Primitive with crafts and farmhouse décor and Johnny Bee Good Honey from Albion.
Dorothy Daniels is the market manager. Her late father, Ralph Dollinger, owned the site, which previously was used as the office space for GCASA.
Daniels said she wanted to see the space be put to good use.
"This town didn't have a farm market," she said. "It's something for the community."
Anyone interested in being a vendor can contact Daniels at ddaniels.westside@gmail.com.