New family doctor in Albion drawn to serving patients in rural community
Quick Questions with Dr. Keith Fuleki, who joined Oak Orchard Health in July
ALBION – Dr. Keith Fuleki, 30, is the new family physician at Oak Orchard Health, working out of the site on Route 31 in Albion, across from the Save-A-Lot grocery store.
Fuleki is well acquainted with Western New York after doing a residency at Niagara Falls Memorial Medical Center.
He grew up in Grand Rapids, Mich. and graduated from Aquinas College in Michigan with a bachelor of science, majoring in biology and a minor in chemistry and psychology. He earned his doctor of osteopathic medicine from the Philadelphia College of Osteopathic Medicine in 2013.
He discussed his career and path to medicine during an interview last week at his office at Oak Orchard Health, 301 West Ave.
Question: Why did you want to be a doctor?
Answer: There is a lot of benefit in helping people and I really like science. That is what got me started and interested. But I specifically enjoy rural medicine. This is what I want to do. It was a very good fit coming here.
When I came here and was looking for a place to live, the first people I called for an apartment they were initially very cautious. 'You're a doctor. Aren't you going to live in Rochester?'
But I'm in rural medicine, which is what I want to do. It's what my grandfather did. I've lived in the city, in Cleveland, Grand Rapids, Buffalo and Philadelphia. I like the country more. There is also a big need here.
A lot of colleagues also are going to start out and go to a place of need like Nevada. They just move out west.
So, to the question why would I go here? It's great. I live in Holley. I got really lucky getting a nice apartment there. The people refurbished it phenomenally. The equivalent price of what I looked at in Brockport was so much worse.
Question: I've read where it's hard to find doctors today, because of the debt from school and the regulations taking the joy out of it. I don't know if that's true. Are there fewer people going into the field?
Answer: Well, I think if you want to do it, you will. One great thing is the mid-level physician assistant program was created in America. That is phenomenal and of course there are nurse practitioners. That is great. If someone wants to work in the medical field, and they don't want all of the responsibilities, the years of work and the debt, all of the exams and all of the things a doctor has to deal with, there is PA school.
The reasons why you wouldn't want to be a doctor, that was brought up to me when I first got interested at the age of 17. It was right before I went to college. I didn't know what I wanted to do, but I read a book by a psychiatrist. Initially I wanted to go into psychiatry.
So I went to college saying I wanted to be psychiatrist and people said, 'There's going to be a lot of debt, there's going to be a lot of schooling. There's going to be a lot of exams.'
But I said that's fine, I want to be a doctor. I think that's what everyone else who goes into it says.
There are some people who go into it for the wrong reasons. Anyone going into it for money that's the most ridiculous idea in the world. But for people who really flourish it's a calling. I know that's romanticizing it.
I did get a lot of those comments (about the debt, etc.), but I was like, 'Whatever, let's just get on with it. Let's take the courses and exams.' I want to do it.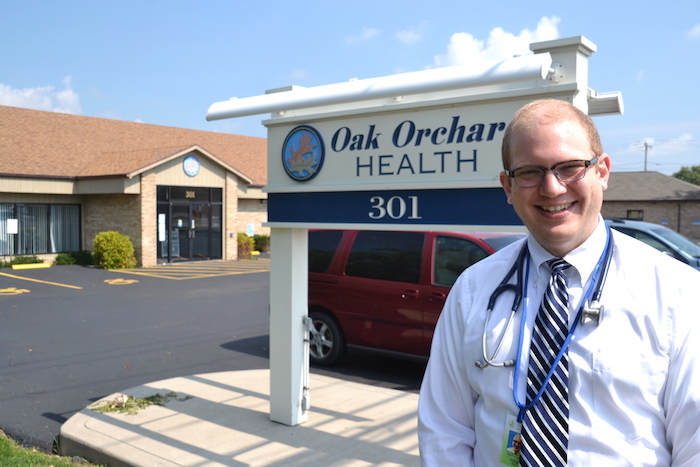 Dr. Keith Fuleki likes the staff and medical professionals at Oak Orchard Health, which is located at 301 West Ave.
Question: Why Albion instead of another rural area?
Answer: This is convenient in terms of living near Buffalo. I started looking around for jobs. I didn't want to move really far. I've been moving my whole life and I'm tired of moving. I like Holley, where I live. It's really nice. There's a lot of nice things in the town.
Question: For this job, was there a want ad, or a recruiter? How did that work?
Answer: For doctors, it's so specific and specialized. You sort of ask around. I talked to my superiors. I was fortunate with the people above me, basically my boss who was the director of the residency. He is an excellent person. I asked him the same question, 'How do I do this?' Do I just start Googling?
I have a recruiter and there was this Albion place. There was another option in the suburbs of Buffalo. Another option was a small community hospital.
Question: I get the impression there are resources here with grants and you are part of a team?
Answer: On yeah, that is what really attracted me. Some physicians, young or old, have different perspectives. They may be really comfortable being the only one, or being one of two or three in a practice. What made this a perfect fit is I wanted about five, six providers. Here there are basically seven. There is a pediatrician, mid-levels, and physicians.
There are grants. We're technically a private practice but we're funded through the government. There's the National Health Service Corps, which is an incentive provided the government to get physicians into rural areas and areas of need. In theory, the budget for that should be tripled or quadrupled, some people say.
Question: So are you in an area of need in Orleans County?
Answer: Yes. The Oak Orchard Health system is part of that. It gives us resources. We have a lot of providers. We have space. We have staff. If it was a true private practice, we would probably have as little nursing staff as possible. We'd have to be as efficient as possible.
Question: I would think that helps the doctors focus on care and not have to worry about the dollars as much?
Answer: Yes. We have more resources and really good things for people. That is part of why I came here, too.
Part of what drew me here is I will get more experience with skin, I will get more experience with women's health, I will get more experience with migrants, and outreach and speaking Spanish. I speak a little Spanish, but I want to get fluent. This is the perfect fit for me.