New Covid cases today include 24 in Orleans, 50 in Genesee
Health Dept. reports 3 deaths at nursing home in Batavia

There are 74 new confirmed Covid cases in Genesee and Orleans counties reported today. There also have been three deaths in Genesee County due to Covid, the Genesee and Orleans County Health Departments said.
In Orleans County, there are 24 new positive cases of Covid, bringing the total to 686 cases since March.
The new positive cases reside in Albion, Barre, Clarendon, Gaines, Kendall, Murray, Ridgeway, Shelby and Yates. The individuals are in the age groups of 0-19, 20s, 30s, 40s and 60s.
Three of the individuals were on mandatory quarantine prior to testing positive, the Health Departments reported.
Six of the previous positive individuals have recovered and been removed from the isolation list.
Orleans also is reporting that eight residents are hospitalized from Covid, up from six on Thursday.
• Albion Central School officials were notified today that a staff member in the elementary school has tested positive for Covid-19. The Health Department has completed contact tracing for the staff member and determined there is no need to quarantine staff or students, the district stated on its website.
• Medina Central School also is reporting a student in the high school tested positive for Covid. That student hasn't been in the school building in more than three weeks.
An elementary student also tested positive who was last in the school building on Nov. 30. "Everyone who will be placed on quarantine due to school contacts has been notified, although the Department of Health may reach out to others if they determine that any potential exposure has occurred outside of the school," Mark Kruzynski, the district superintendent, wrote in a letter to the community today.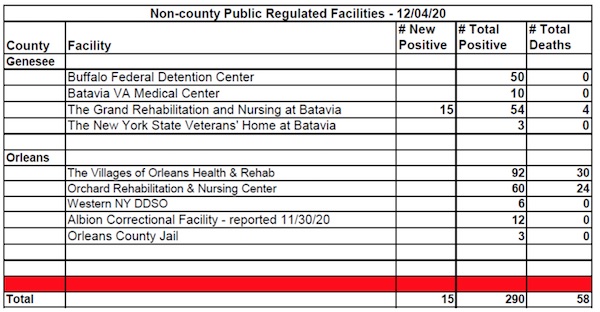 In Genesee County, there are 50 new positive cases of COVID-19 for a total of 1,086 cases since March.
The new positive cases reside in Alexander, Batavia, Bergen, Byron, Elba, LeRoy, Oakfield, and Pembroke.
The individuals are in the age groups of 0-19, 20s, 30s, 40s, 50s, 60s, 70s, 80s and 90s.
Of the new cases, 15 are residents at The Grand Rehabilitation and Nursing in Batavia. The Health Departments today are also reporting that three residents at The Grand have died from Covid, with two over age 65 and one under 65.
"We express our deepest condolences to the family and friends of these community members during this very difficult time," the Health Departments stated in a news briefing.
Genesee also is reporting 29 of the previous positive individuals have recovered and been removed from the isolation list.
Genesee has 15 residents hospitalized with Covid.
---
In the past nine days, since Nov. 25, Genesee has 259 new confirmed cases, from 827 to 1,086, and six more deaths.
In Orleans, there are 99 more cases, up from 587 to 686, since last Wednesday (Nov. 25) and one more death.
---
• 3-County Data: To see an online map of confirmed cases in Genesee, Orleans and Wyoming counties, click here. There are currently 370 active cases in the three counties with 183 in Genesee, 77 in Orleans and 110 in Wyoming.
• Statewide Data: Of the 208,297 tests reported yesterday, 11,271 were positive (5.41% of total). That compares to 9,855 positive tests on Wednesday (4.84% of total). A week ago, the state reported 8,176 positive tests or 3.72% of the total.
"Our largest two problems right now are the 70 percent spread in households and small gatherings, aggregated by the holiday season, and lack of compliance with restrictions," Gov. Andrew Cuomo said. "It's driven by social fatigue, social resentment, social noncompliance and lack of government enforcement. If people don't follow the restrictions, you're going to see an increase.
Cuomo today reported the total hospitalizations from Covid are at 4,222, compared to 4,063 the previous day and 3,103 a week ago.
Cuomo today also announced that 20 million Covid-19 test results have been reported to New York State since the pandemic began.
"There are capacity and protocol restrictions in bars, restaurants and gyms," Cuomo said. "The lack of compliance is a problem and I need the local governments to enforce those restrictions. I understand Covid fatigue and that people are resentful of these regulations, but if you don't enforce the restrictions, and if the restrictions are violated, then they're pointless. They have to be enforced. New York State has one of the nation's lowest infection rates and the vaccine—the weapon that ends the war—is on the way. The question is how long it will take."
• Rapid Testing: Genesee County will be hosting 2 rapid testing clinics on Dec. 8 and Dec. 10 from 1 to 4 p.m. The focus is for asymptomatic individuals and is free.
This is a self-administered rapid test at the Genesee County Emergency Management Office & Fire Training Facility, 7690 State Street Rd. in the Town of Batavia. To schedule a test, please register on-line (click here). Anyone needing additional help for online registration may contact the Genesee County Health Department at 585-344-2580 ext. 5555. To help the process please not the following guidelines:
If you completed the form online, please print it out and bring it with you.
Make sure you have a pen in your vehicle.
Everyone in the vehicle is to have their mask on when they pull up at the testing site.
For those who are getting tested, they may get a call fairly quickly from an unknown number…answer the phone. Staff cannot leave messages and can only give results to the individual tested or the guardian of minor children. Hard copy results will be e-mailed within 48 hours if we have a valid e-mail address.
Orleans County will be holding a rapid testing clinic on Dec. 16. More details to come.