New Covid cases include 152 in Genesee, 84 in Orleans in past 4 days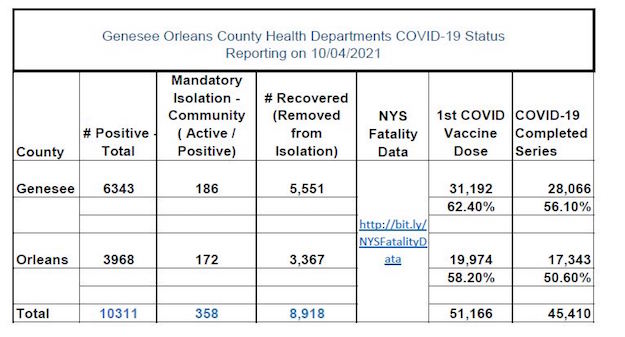 There have been 152 new Covid cases in Genesee and 84 in Orleans since Thursday, according to the Genesee and Orleans County Health Departments.
Genesee currently has 11 people hospitalized due to Covid while Orleans has one person in the hospital from Covid.
There are also 70 more recoveries and 77 in Orleans. These are previous positive individuals who completed their 10-day isolation and have been removed from mandatory isolation.
G-O Health reported today there are currently 358 active Covid cases in the two counties (186 in Genesee and 172 in Orleans). That is up from 352 on Thursday when there were 192 cases in Orleans and 160 in Genesee. A week ago there were 339 active cases in the two counties, with 191 in Genesee and 148 in Orleans.
The positivity rate in Orleans is 8.4 percent over the past 7 days and in Genesee it is 6.6 percent over the past week, according to the state's Forward NY website. Over the past 14 days, the positivity rate in Orleans is 8.6 percent and in Genesee its 6.9 percent, according to the state.