New confirmed Covid cases go from 13 to 25 in Orleans in past week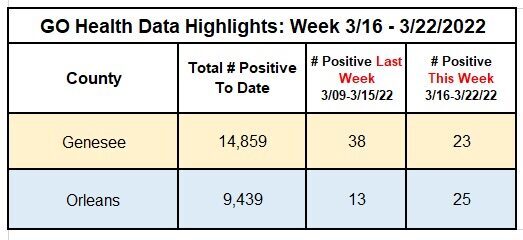 The number of confirmed Covid cases increased in Orleans County from 13 during the week of March 9-15 to 25 from March 16-22.
That is still significantly less from the Covid surge in early January when there were 855 cases from Jan. 5-11.
In the past eight weeks in Orleans the cases have dropped from 255 from Jan. 26 to Feb. 1, 157 from Feb. 2-8, 84 from Feb. 9-15, 41 from Feb. 16-22, 29 on Feb. 23 to March 1, 15 from March 2-8, 13 from March 9-15, and 25 from March 16-22.
In Genesee County the number of new confirmed cases from March 16-22 was 23, which was down from 38 the previous seven days, according to an update from the Genesee and Orleans County Health Departments.
Neither county reported a new Covid-related death the past week and Genesee remains at 184 and Orleans at 113 during the pandemic the past two years.
Statewide the percent of positive tests on Wednesday was 2.13 percent or 3,450 out of 162,273, Gov. Kathy Hochul said.
She said daily hospitalizations were at 911, the seventh straight day under 1,000.