New class starts for Leadership Orleans
Program now in 4th year gives group a chance to explore many facets of the county
LYNDONVILLE – The fourth class for Leadership Orleans started this past week with a two-day retreat at the White Birch Golf Course.
The program started in 2018. Each year about 25 community members participate in the program. They used to meet monthly and spend a full day examining an aspect of the county, and hearing from leaders in different industries, businesses, human services, education and other sectors of the community.
This year's class was pushed back due to Covid-19 concerns. Instead of meeting monthly, the class will get together twice a month some of months to ensure a full year of programming.
The opening retreat included several ice breakers to help the class get better acquainted, a personality profile awareness, and discussion about servant leadership.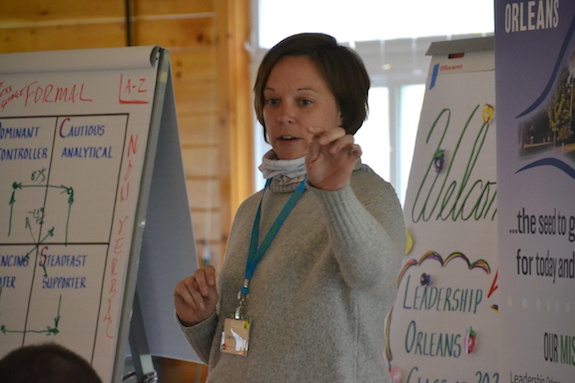 Laura Olinger, owner and president of Bentley Brothers, speaks during the opening retreat last Thursday for Leadership Orleans at the White Birch Golf Course in Lyndonville.
Olinger is a member of the steering committee for Leadership Orleans. She said the program shows the county's strengths and looks for ways to overcome the challenges.
"It can be really easy to say we've always done it this way," Olinger said. "But this brings together a group of people who want to be involved and see the community do better."
Skip Helfrich, director of the program, said there continues to be strong interest from the community in leadership Orleans. This year's class includes 11 organizations that haven't been part of the program before. He already has three applicants for the 2022 program.
"This class is a great way to learn about Orleans County," he said. "Everyone builds a network and you're learning about your community."
In coming months the class will have days focused on legislative affairs, an adventure leadership day, community health, education, business and culture, tourism and recreation, agribusiness, economic and workforce development, simulated society, volunteerism, and a closing retreat and graduation.
Participants pay a tuition for the program, which also receives $16,000 in funding from the county, as well as many sponsors.
The 2021 class includes:
Rebecca Alexander, co-owner of Dubby's Wood Fired Pizza
Rich Allis, pastor of Light of Victory Church in Albion
Mourad Attar, quality engineer for Baxter Healthcare
Donna Ciccarelli, global purchasing planner at Baxter Healthcare
Roberta Conn, office manager for Oak Orchard Community Health Center
Sam Covis, assistant director Lee-Whedon Memorial Library in Medina
Joanna Follman, payroll administrator for Millennium Roads in Lyndonville
Nicole Goyette, assistant principal for Orleans/Niagara BOCES
Sherry Haylett, director of finance for the Arc of Genesee Orleans
Cat Holland, retail manager for Leonard Oakes Estate Winery in Medina
Renee Hungerford, executive director of Community Action of Orleans & Genesee
Kathy Jurs, herd care manager for Orleans Poverty Hill Farms in Albion
Denise Klos, manager of operations for RTS Orleans
Ayesha Kreutz, program coordinator for the Genesee Orleans Ministry of Concern
Mike Magnuson, reference librarian for Hoag Library in Albion
Ben McPherson, financial advisor for Edward Jones Investments in Lockport
Gabe Myers, customer service manager for Leonard Oakes Estate Winery in Medina
Stacy Newell, chief operating officer for Claims Recovery Financial Services in Albion
Justin Niederhofer, deputy director of Orleans County Emergency Management Office
Melinda Pitcher, manufacturing supervisor for Baxter Healthcare
Chris Ranallo, manager of Cobblestone Country Federal Credit Union in Albion
Rob Riemer, deputy for Orleans County Sheriff's Office
Elissa Smith, elementary principal at Lyndonville
Sean Snook, operations manager at Claims Recovery Financial Services in Albion
Scott Wilson, superintendent at Orleans County Jail