New class graduates from small business program in Orleans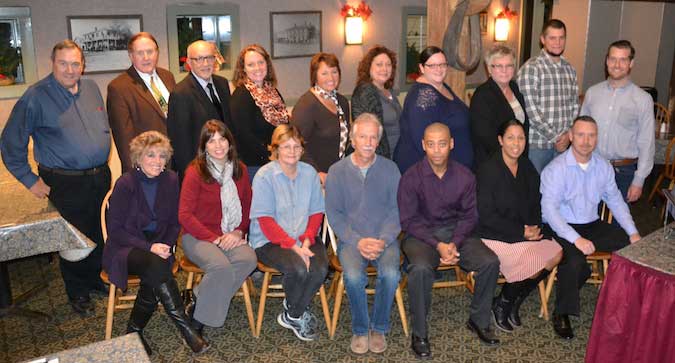 Photo by Tom Rivers
ALBION – The fall 2017 class has graduated from the Orleans Microenterprise Assistance Program. About 500 people have now graduated from MAP since it started in 1999.
Pictured, front row, from left: Diane Blanchard, MAP coordinator for the Orleans Economic Development Agency; Delanda DeLucia, dog grooming business; Beth Schorer, owner of Beth's Freshly Started Sewing Box; Patrick Dishaw, Mold and Radon Assessment Services; Joe Nelson, Alana Monska and Jason Monska, A & J's Bakery and BBQ Catering.
Small business advisors Dick Pettine, Jon Costello and Sam Campanella; Amanda Mrzywka, co-owner of Navarra's Farm Market; Joan Navarra-Mrzywka, "Joaney Baloney" food truck at Navarra's Farm Market; Felicia Viloria, considering a hot dog stand; Sara Mathes, owner of Sassy Girls Sparkle; Linda Suhr, IPA beer and wine retail store; Joshua Fisher, JJ Contracting; and Ben DeGeorge, owner of the Arnold Gregory Office Complex, where the class meets and there are offices for small businesses. Not pictured: Kerry Rosenberg, dog wash business.
The 10-week gives small business owners tips in marketing, handling stress, computers, legal issues, bookkeeping and taxes – all factors that are key to running successful businesses. They also must complete a business plan. The graduates are now eligible to seek low-interest financing for up to $30,000 from the Orleans EDA.
The Orleans Economic Development Agency has run the program since 1999, with classes in the spring and fall.
The class is held at the Arnold Gregory Memorial Complex in Albion. The graduation program was Tuesday at The Village Inn.
The EDA is preparing for the spring class which starts in April. There are spots available. Contact Diane Blanchard, MAP coordinator, at (585) 589-7060.