New cigar shop and smoking lounge opens in Medina
MEDINA – A new cigar store and smoking lounge is the latest venture of an entrepreneurial Medina family.
On Saturday, Jim and Cindy Robinson, their son and daughter-in-law, Joseph and Amanda Robinson, daughter and son-in-law Heather and Dave Burd and daughter Becky Robinson will welcome customers at the grand opening of  Vintage Cigar, the area's first cigar store and smoking lounge at 513 main St.
The Robinson's son-in-law Dave Burd, who lived with his wife Heather Robinson Burd in Texas, came up with the idea for the business during a visit here.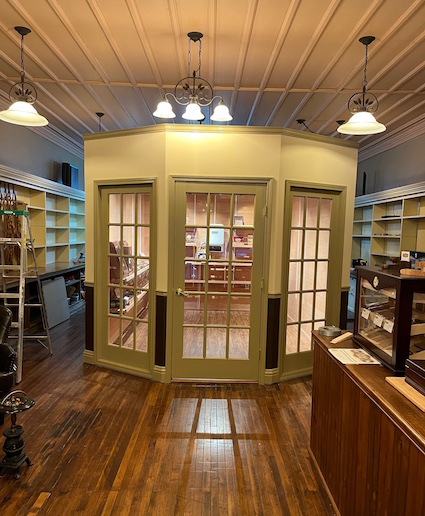 "We used to come home every year, and I said this town needs a man cave," Burd said. "There's nothing for guys in Medina, other than restaurants."
He said the nearest lounge where people could smoke was in Buffalo or Rochester, until one recently opened in Batavia.
It was three years ago when they started talking about a smoking lounge in Medina.
Jim and Cindy already owned the building at 513 Main St., which they had purchased in 2001. When the Bread Basket closed, the store was vacant.
The lounge is a total Robinson family venture, Cindy said.
In addition to being involved in the cigar store, each individual still has a job. Jim is a veterinarian, Cindy owns English Rose Tea Shoppe, Heather is a nurse, Dave is in fabrication and construction, Amanda is a pre-school teacher, Becky is in computers/accounting and Joseph is a lawyer in Batavia.
Dave said he has been a cigar smoker for some time, and when Joey started smoking them, he got on board with the idea.
"Growing up my friends and I occasionally enjoyed a cigar," Joey said. "It's a nice way to sit down and relax."
Dave said one couple came in the store who both smoke cigars. He said there has been a huge uprising in cigar smoking, including women. There is a group of cigar smoking women on social media called "Sisters of the Leaf," he said.
"It's a great way to get to know people and socialize," Joey said.
So far, the store has generated a lot of interest. As the family was working in there, people kept coming in to buy cigars and inquire about the grand opening.
"Even women have asked me if we were going to carry a particular brand of cigar," Cindy said.
The Robinsons have created a lounge in the back of the store, with overstuffed chairs, a sofa and even a counter where a customer can use his computer while enjoying a cigar.
Dave said the lounge will give smokers a comfortable place to sit and relax, when it's too cold in winter to smoke in the garage. Going to a lounge to smoke is like going to a bar to have a drink, he said. This is a place where men can come in and relax while their wives go shopping.
Joe said their goal is to have a large selection that cigar aficionados can choose from.
Bob Gilsinan of Medina has been a cigar smoker for more than 50 years. He has been entertaining a group of cigar smokers in his basement and looks forward to enjoying the new lounge. His late wife, a nurse practitioner, also used to have a cigar once in a while, he said.
"We enjoy cigars," he said. "I've been to a lot of cigar lounges all over the country, but my favorite is in Key West."
Dave said he has had several customers asking for key lime cigars. He added there is a huge health difference between smoking cigars and cigarettes. Cigar smokers don't inhale, he said.
Because smoking lounges only deal with tobacco products, they are exempt from the New York State Clean Act law, which prohibits smoking in public buildings.
Gilsinan said you can smoke the same cigar for an hour and a half.
The ladies in the Robinson family who don't smoke say they like the smell of cigars.
Jim, Joey and Dave built the humidor of Spanish cedar from Pennsylvania. That species of wood retains humidity without warping, Jim said.
Cindy peeled as many as six layers of wallpaper off the walls, uncovering a final layer still in good condition. She estimates by the women in vintage clothing that it dates back to the 1800s. The block burned in 1860, and this building was built in 1863.
Vintage Cigar currently carries 50 brands of cigars and expects to have 50 more by the grand opening from 10 a.m. to 8 p.m. Saturday. Ray Wendling from North Ridge Distillery in Lyndonville will be set up from 2 to 8 p.m. with cigars and tastings.
Cindy said they have a line of coffee coming and snacks and candy will be available in the smoking lounge. They will also have a giveaway where customers can enter to win a door prize.
They sell a line of pipes and are looking into Zippo lighters, as well.
Current hours of operation are 5 to 8 p.m. Thursday and Friday, 10 a.m. to 5 p.m. Saturday and noon to 5 p.m. Sunday. They are anxious to hear customers' wishes as to what hours would be most convenient for them.