New cases in Genesee and Orleans down to 355 in past week
Orleans reports 2 more Covid-related deaths, Genesee 4 more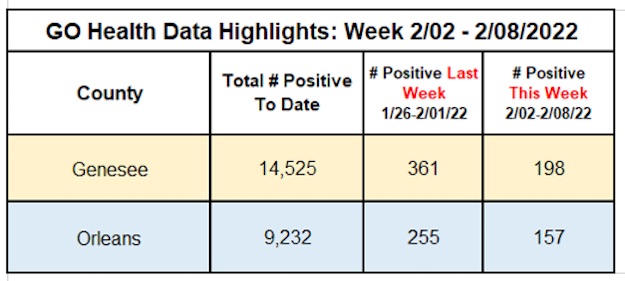 The number of new Covid cases in Genesee and Orleans counties continues to fall. The two counties are reporting 355 new cases in the past week, with 198 in Genesee and 157 in Orleans.
Genesee also is reporting 4 more Covid-related deaths and Orleans has 2 more. Genesee has now had 181 residents pass away due to Covid and Orleans 109 during the nearly two years of the pandemic, according to the Genesee and Orleans County Health Departments.
The 355 new cases from Feb. 2 to Feb. 8 are down from 616 new cases the previous 7 days.
Orleans County Covid cases the past 7 weeks:
159 – Dec. 22-28
379 – Dec. 29-Jan. 4
855 – Jan. 5-11
645 – Jan. 12-18
521 – Jan. 19-25
255 – Jan. 26-Feb. 1
157 – Feb. 2-8
Genesee County Covid cases the past 6 weeks:
276 – Dec. 22-28
383 – Dec. 29-Jan. 4
1,848 – Jan. 5-11
1,014 – Jan. 12-18
847 – Jan. 19-25
361 – Jan. 26-Feb. 1
198 – Feb. 2-8