New book honors 8 men from Holley who died in Vietnam War
HOLLEY – Michael Keene, a Vietnam War veteran, was paying his respects at the Greater Rochester Vietnam Veterans Memorial about three years ago.
The memorial includes pedestals for each of the 280 soldiers who died in Vietnam from the Rochester area. Those pedestals include plaques that lists the soldiers' names, when they were born and when they died. It also lists their high schools.
Keene kept seeing Holley. As he walked through the memorial, he saw Holley listed eight times for the soldiers' high school. He thought that was a staggering loss for such a small town.
"I was struck by how many boys went to Holley," Keene said. "It had to have a tremendous impact."
Keene, an author from Pittsford, has written books about the Erie Canal, famous crimes in Western New York and insane asylums. He is retired after a career as a financial advisor.
He wanted to find out about the soldiers from Holley, and how the town persevered with such a profound loss – one of the highest per capita casualty rates in the country.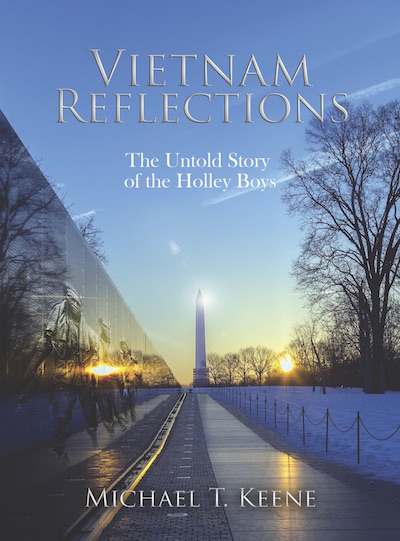 Keene has just released his seventh book, profiling the eight Holley graduates who died in Vietnam. Keene interviewed family members, best friends and war buddies.
"Vietnam Reflections: The Untold Story of the Holley Boys" is available at local book stores – The Book Shoppe in Medina, Lift Bridge Book Shop in Brockport, and the Holley village office. Keene will have a book discussion and book signing on Jan. 14 at the American Legion in Holley at 2 p.m. The book will soon be in wider distribution.
He decided to write about the "Holley boys" while passing through Clarendon and seeing a sign pointing to Holley, 3 miles away. He remembered Holley from the Vietnam War Memorial. He wanted to see the town.
He drove towards Holley and realized just how small it was. The village has about 1,800 residents. The school graduates less than 100 students a year.
Keene wondered how a community would hold up, losing eight men in a protracted way. Keene thinks it might be easier on a community to suffer a one-time event, rather than a series of deaths over five years.
"It was traumatic for Holley," Keene said about the Vietnam War deaths. "It wasn't a moment in time. It was a slow, unfolding tragedy."
The community came together in its grief over the losses of Gary E. Bullock, Howard L. Bowen, David D. Case, John P. Davis, George W. Fischer Jr., Paul S. Mandraccia, Ronald P. Sisson and Gary L. Stymus.
Keene spoke with their loved ones. About 50 years after the soldiers' deaths, the pain endures for their families and friends.
"I hope people here enjoy the book and feel a sense of pride," Keene said on Friday during an interview at Sam's Diner in Holley. "I hope they feel their loss is acknowledged."
Keene said he could relate to the Holley soldiers. Like them, he played Little League, was active in Boy Scouts, and went to sock-hops and drove cars too fast.
---
'I hope people here enjoy the book and feel a sense of pride. I hope they feel their loss is acknowledged.'
---
Collectively, the eight soldiers were awarded 40 medals for combat and valor, including seven Purple Hearts, the Bronze Star, Silver Star and the Vietnamese Cross for Gallantry.
Keene in the nearly 250-page book gives background on the Vietnam War, and life in Holley. A recurring theme in his interviews was the pride in the community for the school's marching band that was led by Ray Shahin in the 1950s and early '60s. The band won six state championships and some of the "Holley Boys" were proud members of the band.
"Ray Shahin was an amazing character with the sheer breadth of his career," Keene said. "He is extremely integral to the story."
The soldiers grew up with parents who worked on a muck farm and at the Duffy Motts plant. Keene said duty and hard work were valued.
Keene interviewed 35 people for the book. He thanked Marsha DeFilipps, the Holley and Murray historian, for helping to connect him to the soldiers' families and friends.
Keene dedicates the book to David States, another solider from Holley who died in Vietnam. In his case, he lived in the community briefly and didn't graduate from Holley, but his loss was another painful burden to bear.
"I feel connected to this little town," Keene said. "This book is really a tribute to the men who died and to Holley."
The fallen:
John P. Davis, 30, was killed in action on July 21, 1965
David Duane Case, 20, was killed in action on September 16, 1965
Ronald P. Sisson, 23, killed in action on Dec. 16, 1965
Howard L. Bowen, 20, when killed in action on Nov. 8, 1966
Gary E. Bullock, 24, when he was killed in action on Jan. 31, 1967
Gary Lee Stymus, 26, was killed in action on May 25, 1967
George Warren Fischer Jr., 23, was killed in action on August 3, 1968
Paul Scott Mandracchia, 18, was killed in action on April 16, 1970
For more on Keene and his books, click here.