New book highlights history of Boxwood Cemetery in Medina
Press Release, Medina Boxwood Cemetery Commission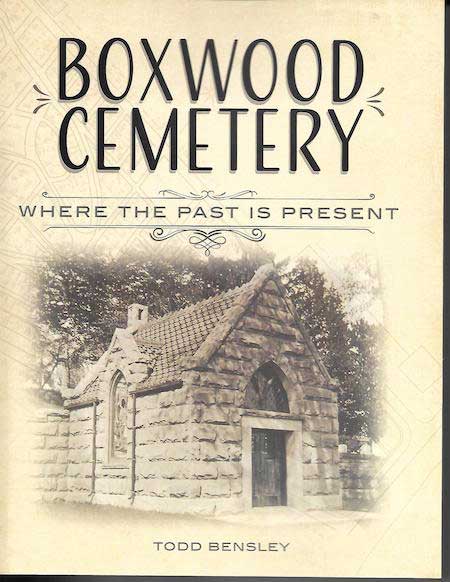 MEDINA – After several years of research, the Boxwood Cemetery Commission is pleased to announce the completion of a book focused on Boxwood Cemetery in Medina.
Boxwood Cemetery: Where the Past is Present, began as a successful application to include the cemetery in the National Register of Historic Places. It grew from a basic history of the cemetery into a study of how Boxwood Cemetery reflected trends in 19th and 20th century American cemeteries.
The book by Village Historian Todd Bensley also features an extensive collection of obituaries of those buried in the cemetery, as well as a list of veterans from the Revolutionary War to the present.
The book is a must-read for anyone interested in genealogical work; local, state and national history; cemetery history; or just a good story.
Boxwood Cemetery is a great example of Joseph Amato's maxim: "All history is local." This history of Boxwood Cemetery shows how a small village cemetery in Western New York reflects the last two centuries of American thought on death and the final resting place of those who came before us. In addition, the hundreds of obituaries in the book show how this small community contributed to the historical narrative of the United States, and in some cases, the world.
David C. Sloane stated, "The American cemetery is a window through which we can view the hopes, fears, and designs of the generation that created it and is buried within it. By examining the cemetery from the late-eighteenth to the late-twentieth century, we can find clues to how the mosaic of death changed within America's social and cultural framework." This book invites the reader to peer through the window of Boxwood Cemetery at the history of the United States.
The book will be available for sale at the Canal Village Farmers' Market in Medina on Saturday, November 3, and at Boxwood Cemetery on Sunday, November 4, where a tour of the cemetery is planned for 2 p.m.
The books will be specially priced at $20 for those two events. After November 4, the books may be purchased at the Book Shoppe in downtown Medina or at the Village Clerk's office on Park Avenue for $25. All proceeds from the book will go the Friends of Boxwood – an organization devoted to the upkeep and promotion of the local treasure.