New book about Erie Canal focuses on musical history of the historic waterway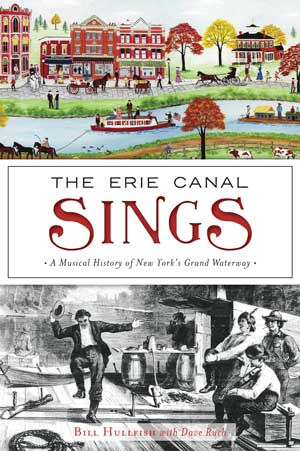 MEDINA – An accomplished musician and educator with a particular interest in the Erie Canal will be at The Book Shoppe from 11 a.m. to 1 p.m. on Saturday to sign copies of his new book.
William Hullfish, professor emeritus of music at Brockport State College, will take readers on a musical journey along New York's historic Erie Canal in his 240-page book, The Erie Canal Sings: A Musical History of New York's Grand Waterway.
Hullfish's career began with six years with the United States Air Force Band and Singing Sergeants. He has toured extensively in State Department tours to South and Central America, the Far East and Southeast Asia, as well as with various music groups in every state except Alaska. He has played at the White House, Kennedy Center, Constitution Hall, Mormon Tabernacle and Carnegie Hall.
In Europe, he has played concerts in Germany and Austria, and has played summers in every Canadian Exhibition from the Pacific Northwest Exhibition in Vancouver to the Calgary Stampede, Red River Exhibition, Toronto and Ottawa Exhibitions and the Montreal Music Festival.
Founder and director of the nationally recognized Golden Eagle String Band, Hullfish is an expert in American music, especially Erie Canal songs. He was awarded a Gold Medal by the Smithsonian Institute as a Smithsonian/Folkways recording artist for his cultural contributions. He has several publications and recordings published by the American Canal Society, of which he is a member.
Hullfish performs in several orchestras, including the Brockport Symphony, Gateswingers Big Band, Greece Community Orchestra and Greece Summer Symphony. At a special concert appearance with the Albany Symphony, he was named a "National Treasure" by music director David Alan Miller.
Life working along the banks of the Erie Canal is preserved in the songs of America's rich musical history, and while Thomas Allen's, "Low Bridge, Everybody Down" has achieved iconic status in the American songbook, Hullfish writes that its true story has never been told until now.
Copies of his book will be available at The Book Shoppe, 519 Main St.