New boat launch under construction at Point Breeze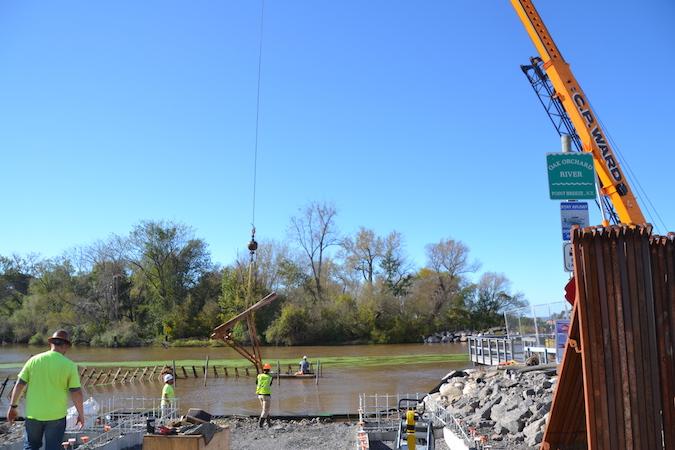 Photos by Tom Rivers
POINT BREEZE – Workers from CP Ward in Scottsville are building a new boat launch at Point Breeze, a project that is 95 percent funded by the state through the Lake Ontario Resiliency and Economic Development Initiative (REDI).
The new launch will be raised about 2 ½ feet and will be more resilient in case of flooding and higher lake levels, said John Papponetti, the county's DPW commissioner.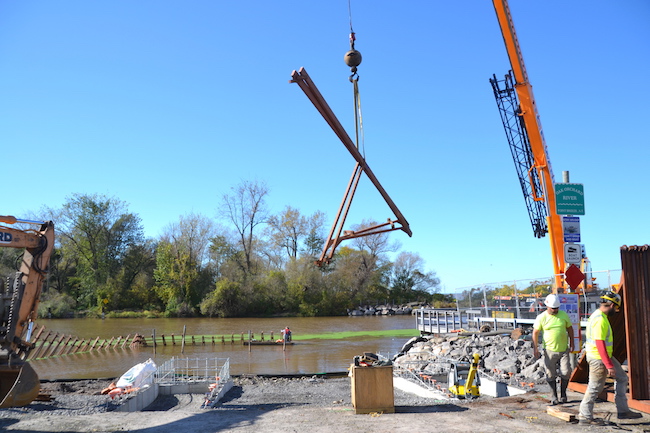 CP has put a new foundation in for the boat launch. On Wednesday, the company used a crane to set metal frames in the water to form a perimeter around the boat launch. Tarps will be added to keep out water, which will be pumped out in a cofferdam. That will allow CP Ward to build the new boat launch. The launch will be regraded and concrete poured for the new ramps and docks.
The ramps will be reconfigured and extended by 20 feet to 104 feet. The longer ramps will allow the launch to be used during times of lower water levels because the ramp will extend out to deeper water.
The project includes floatable walkways which will tie into a concrete ramp. The project also includes milling and paving the driveway and parking lot. CP submitted the low construction bid of $439,850.
The boat launch was closed after Labor Day to lessen the impact on boaters during the busier summer season. Construction is expected to continue through November to possibly early December.