New Albion school clay target team starts season April 14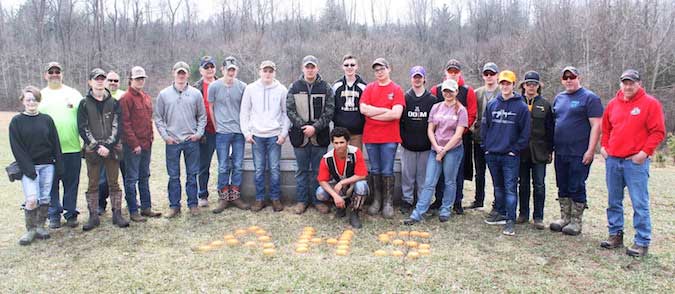 Provided photo
BARRE – The newly formed Albion High School Clay Target Club is set to compete in the 2019 New York State Clay Target League. The spring league will officially start April 14 and continue for five weeks. All of the Albion team members participate at the Barre Sportsmen's Club.
Pictured from left include: Gina Fox, Chris Rice (coach), Cole London, Ryan Uderitz (coach), Zac Albright, Drew Caldwell, Mike Donahue (coach), Austin Aman, Shane Hastings, Jordan Boccacci-Phillips, Ryan Krenning (kneeling), Sawyer Brailey, Ben Hickman, Austin Furness, Patrick Brien, Alex Rustay, Jacob Fuller, Nick Sacco, Jeff Atwell (coach) Tim Brien (coach). Missing from photo: Jessica Fox, James Hapeman, Max Hapeman and Will Trembley.
The Albion team will compete against other schools that do their trap shooting on their home trap fields. They compare their scores online. Shooters try to hit 50 targets, which are sent out of a machine at 43 miles per hour.