New Albion mayor, trustees sworn into office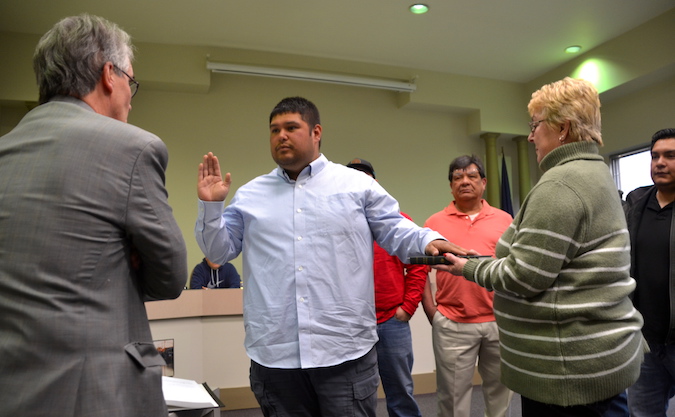 Photos by Tom Rivers
ALBION – New Albion Mayor Angel Javier Jr. takes the oath of office this evening. June Persia is holding the Bible while Village Attorney John Gavenda administers the oath. Javier's father Angel is in back.
Javier, 32, was elected on March 15, receiving 378 votes to 195 for Vickie Elsenheimer and 137 for Kevin Graham.
Today's organizational meeting was the first meeting for the new Village Board. Javier is joined on the board by Tim McMurray and Joyce Riley, who were elected on March 15. They join Zack Burgess and Chris Barry. Javier appointed Barry as the deputy mayor. Burgess was elected about a year ago and Barry was appointed to the board in May 2020 and then was elected in September 2020 in a year when the election was delayed six months due to Covid-19 restrictions.
Javier and the board will be busy this month putting together the village budget that must be adopted by April 30. The board will have budget meetings April 6-8, and April 11-15 "as needed."
The board also approved resolutions to have the village recreation director work on two or three layouts for frisbee golf at Bullard Park.
The board also voted to have DPW Superintendent Jay Pahura compile an unofficial survey of streets and sidewalks in the village, which will help prioritize repairs in the future.
The board also voted to seek out a developer for the village website and wants to begin planning use of social media platforms such as Facebook, LinkedIn and Twitter.
The board also wants to established a "Loved Ones" initiative at Mount Albion Cemetery with mapping of the cemetery, cleaning of grave stones and have an internal database maintained and eventually published by the village deputy clerk.
The board also appointed Tracy VanSkiver, the former village code officer, to serve as clerk-treasurer. She succeeds Linda Babcock, who is retiring. Mary O'Sullivan was appointed the deputy clerk-treasurer.
Other appointments include:
Registrar – Tracy VanSkiver; Deputy Registrar – Mary O'Sullivan
Village Attorney – John Gavenda
Fair Housing Officer – Tracy VanSkiver
Planning Board – Matt Hand
Zoning Board of Appeals— Anthony Wynn
Recreation Committee – Geno Allport, Annette Finch, Bernard Baldwin, Mike Beach, Terry Wilbert and Susan Oschmann
Historic Preservation Committee – Loretta Tomasino and Adam Fischer
Library trustee as mayor's appointment – Diana Dudley
Grievance Committee – Anthony Wynn, Kim Remley and June Persia
Official banks for village monies – First Niagara, Bank of America, KeyBank and J.P. Morgan Chase
Official newspaper to carry legal notices for village – The Daily News in Batavia